Toyota Landcruiser cars for sale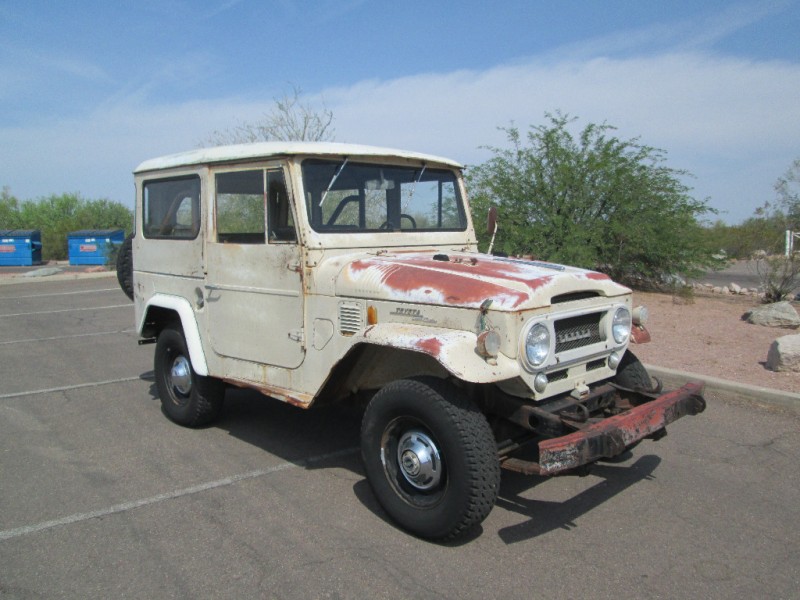 Request Price
Phoenix, Arizona
Category -
Mileage -
Posted Over 1 Month
1967 Toyota FJ40 LandCruiser ? Arizona Truck ? 52k Original Miles ? Unrestored ? BE SURE TO SCROLL DOWN FOR OVER 100 HD PICS ? Dynamite Auto Sales is very proud to offer this rare unrestored original 1967 Toyota FJ40 Landcrusier for sale.? This Arizona truck is still in it's original condition with only 52k miles and is a perfect choice if you want one to use or to restore.? The 3.9L straight 6 engine runs good. the 3 speed manual transmission shifts well and the clutch is strong.? The brake and clutch master cylinders are both new. The body is in good condition for a 49 year old SUV.? This is a survivor car that has never been touched. ? The only rust is just surface rust and can be easily removed with a good cleaning.? All the panels and floors are solid and all the glass is in good condition.? This FJ40 is nearly all original and includes a new set of front marker l...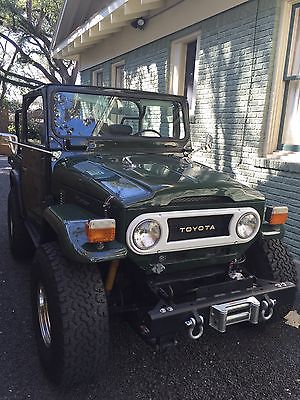 $38,000
Houston, Texas
Category -
Mileage 69000
Posted Over 1 Month
1975 FJ 40 Toyota Landcruiser. Totally rebuilt from the ground up. 383 V8, Over $50k invested in this vehicle. Power Steering, custom seats and seat belts. Super clean and fun to drive.Includes the top and ambulance doors. Garage kept and only taken out on sunny days
$10,500
Palm Harbor, Florida
Category -
Mileage 334000
Posted Over 1 Month
The good: 1995 Cummins 4bta engine with 170k miles KDP (killer dowel pin) on engine doneNew style Heavy Duty 700r4 with diesel appropriate modifications. (Shifts perfectly) Torque converter lockup on OD button. Water to air aftercooler that runs on seperate cooling system from engineWorst mileage- 14mpg Best mileage 18mpgAC is like an icebox, even in Florida. Much colder than factoryThis Cruiser was in South Carolina for 2 years, Colorado for 6 years. It is originally a Florida vehicle and it is now back in Florida.33" Maxxis Big Horn Mud terrain tires with approximately 15,000 milesSpare is the Dura Grappler- brand newSlee 4" springsOme shocksDouble Cardan front shaftSlee Caster Plate Weld in front Panhard adjusterMAF rear panhard drop bracketDrives straightAll Slee stainless brake linesnew style slee headlight harnessCustom made front bumper with winch plateKaymar rear bumper with spare mounted, second post on passenger side. "Slam shut" modification CDL/ pin 7 modExterior is in overall good condition with minor scuffs/scratches here and there. No accidentsI have only (lightly) off-roaded it once. Part of the reason I am selling. Armrest modification for driver's seat. Volvo center console modification for cup holders.Homemade dual tank system with factory dual filler neck. (Still working on this, but all parts are present)Dual batteries Under hood start switch. Nice for bleeding injectors. Husky fitted floor liners front and middle. Black Husky liner for cargo area. Vehicle is ready to run WVO/ alternate fuels using a "two tank system". (I'm not currently using this) Fuel is heated via coolant heat exchangerFuel pressure gauge, fuel temperature gage, sub tank fuel level gauge on console.No oil leaks or Blow by from engine. No puddles in driveway. Engine runs awesome; starts right up every time. Puff of smoke from exhaust on start up and that's it. Very reliable vehicle. This is my daily driver. No issues at all. I drive my 5 year old around in this. Mileage is 334xxx and will go up through daily use. The bad: No axle lockersThe factory radio kinda sucks, CD player and tape player do not work. Right front fender flare is cracked on underside but isn't visible unless looking under the vehicleFront seats need repair or seat covers.At some point, vehicle will need paint or liner, but completely acceptable for now. I'm selling the vehicle because I don't camp or offroad nearly enough being in Florida. I do go boating every weekend and a truck would better suit my life style. If you have a 2007+ Tundra for trade, please contact me! I can possible add cash on my end. Feel free to message me with an offer. This could be a perfect bug out vehicle because it does not have any computers and can run on alternate fuels.