Plymouth Gtx cars for sale in Indiana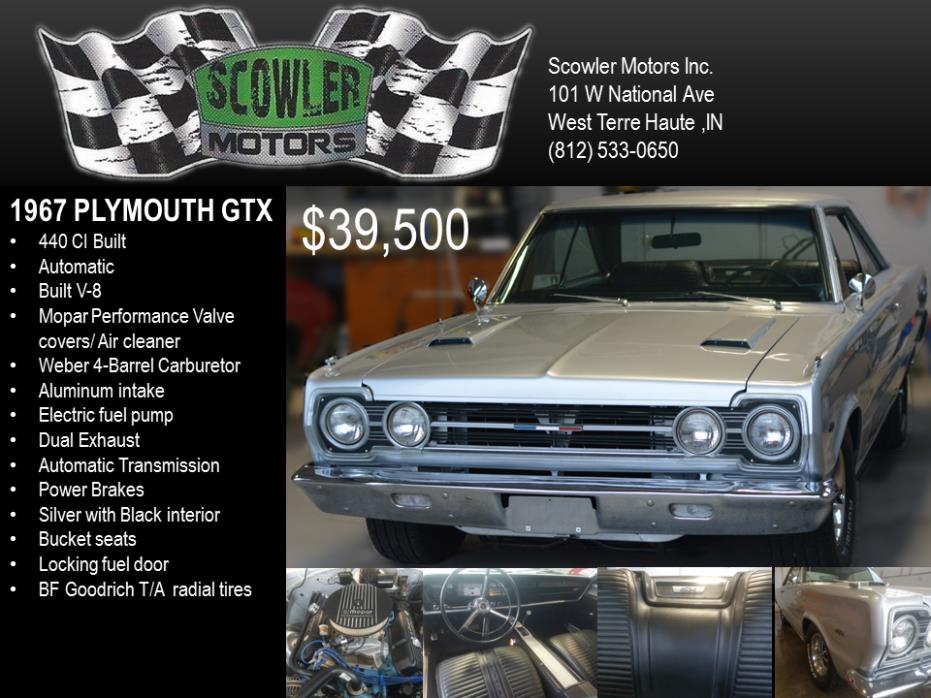 $39,500
West Terre Haute, Indiana
1967 PLYMOUTH GTX · Automatic · Built V-8 · Mopar Performance Valve covers/ Air cleaner · Weber 4-Barrel Carburetor · Aluminum intake · Electric fuel pump · Dual Exhaust · Automatic Transmission · Power Brakes · Silver with Black interior · Bucket seats · Locking fuel door · BF Goodrich T/A radial tires s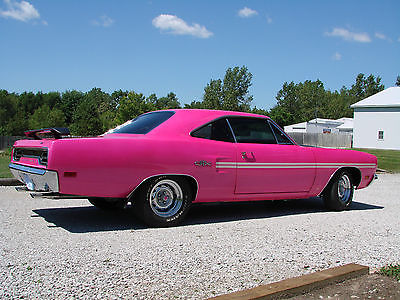 $62,250
Columbia City, Indiana
Up for consideration is a 1970 Plymouth GTX with an RS23VO vin. This car is 1 of 328 in 1970. This is a factory 440 engine car with a six barrel and the original air grabber hood. This original 440 was changed out at some point so in it place is a muscle motors 440 stroked to a 505 with a comp cams E274H producing 440hp. The transmission is the original 727 with a TransGo stage 2 shift kit. The rear end is the original 8-3/4 suregrip with 3.55 gears. This beauty sports a mark 7 radiator, flow kooler water pump and dual electric fans and controller. Headers are TTI 1-7/8 ceramic and a TTI 3" X-pipe Exhaust system with the 50 series flow masters. The frame has been beefed up with frame connectors, torque boxes, front shock tower brace, and a lower core support brace. The K member and lower control arms have also been reinforced. The suspension has been upgraded with Firm Feel Inc upper control arms, torsion bars, front and rear anti sway bars and steering box. It also has new rear springs and all new bushings. The wiring harness is by Painless with led bulbs, 3rd brake light, and the headlights are on a relay. The custom interior is a Marquarts Custom Creation with Autometer gauges and a custom dash. A/C is Classic Auto Air. The paint is a custom Auto Air color. We refer to it as Pink Pizzazzzz. This Gtx has had a very complete restoration that was completed about a year ago. It is fun, fast and gets noticed! It is located in Fort Wayne Indiana, so if you are interested and going to the Auburn Auto Auction this year come take a look. I am listing this for a friend so if you have any questions I will respond with his phone number. He is not interested in any trades, but is willing to listen to offers. Thank you.
Trim 440 w 6 Pack Air grabber hood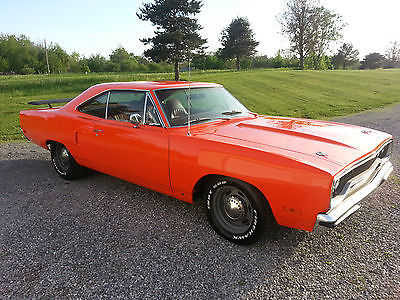 $29,995
Fort Wayne, Indiana
1970 Plymouth GTX This is a 1970 Plymouth Satellite that has been restored as a GTX.It has a 440 with a 4speed installed.The engine has been completely gone through and I have the paperwork.The body and paint work are rotisserie level. The car has so many new parts it is hard to list them all.It has new brake lines,fuel tank,exhaust,suspension components,upgraded brakes,booster,master,all gauges are new and functional,and the radio even works.The interior is in perfect condition. Please look at the pictures closely. The pictures actually don't do this car justice. It is much nicer in person. I only had a few more things to do but decided I needed to sell before I could finish the GTX. It still needs the hood painted(black Stripe), the GTX correct grill,wheels,4speed lower transmission cover,and the emblems.It has about 1 miles since its restoration and has not been driven on the road. If you have any questions feel free to call or text.260-348-2176.NO DISAPPOINTMENTS.
Trim 2 Door