Nissan 720 cars for sale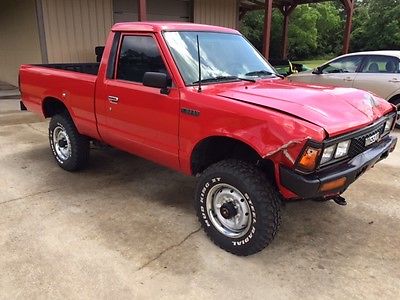 $2,600
Moss Point, Mississippi
1986 Nissan 4x4 720 pickup. Damaged front end. Cab, doors, bed in excellent condition. Interior all original except radio. Original engine with 185,000 miles. Radiator is damaged, but engine runs. Driven daily prior to accident. $2,600.00 CASH IN PERSON ONLY.
Trim Base Standard Cab Pickup 2 Door
$2,500
Eugene, Oregon
HUNTER/SPORTSMAN SPECIALExcellent running/driving 5 SPEED 4 WHEEL DRIVE truck with Z24 engine. This truck comes with the rear jump seats and seat belts (seats 4 total). Perfect for work/hunting and fishing truck (canopy included). I just had the compression checked and it is excellent (new 200 - current 180). The mileage shows 223,727. I don't know if the engine has had a rebuild, but the compression indicates that it probably did. We purchased the vehicle 2 years ago and have only driven it about 2000 miles. I did drive to Southlake, Oregon a few months ago and trailered a large Harley Ultra Classic motorcycle back with no issues.All of the gauges work. The battery is about 2 years old and strong. The tires were replaced about 500 miles ago along with an alignment/front end work. The truck has a trailer towing package with electric brakes installed. Replaced timing, water pump/power steering belts 4 months ago. Spark plugs and wires replaced about 1500 miles ago. The truck looks like it has a 4 inch lift.My mechanic just checked the truck out and found a couple of issues:1. Dent on drivers side behind drivers door and small rusted area on tailgate.2. Windshield washer pump needs replacing ($20.00).3. Power steering pump (rebuilt pump $85.00) does have a whining sound, but still functions properly.
Trim Deluxe Extended Cab Pickup 2 Door