Cadillac Miller Meteor Hearse cars for sale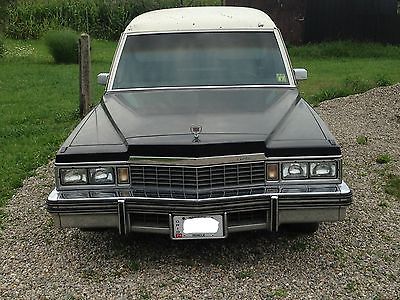 $2,500
Greenfield, Ohio
Category -
Mileage 72000
Posted Over 1 Month
I have for sale a 1977 Miller-Meteor Cadillac Landau Traditional Endloader hearse. This car was my dream car and took a few years to find exactly what I had been looking for. However, I am forced to sell it in order to help fund household projects in dire need. The car is in good condition but does need some body work and paint and tinkering. The car runs and drives but has been parked for a couple years after I bought it due to the fuel pump vapor locking. Before summer ended I replaced the driver side power window motor but did not reinstall the door panel yet. This is originally a triple black car, Sable Black paint, Black vinyl and brocade interior and the black crinkle top was painted over with white by the last funeral that had it in service. All glass is intact and no cracks. Here is a breakdown of what it needs and some parts I am including with it. Needs: Fuel pump installed (comes with replacement)Carburetor rebuilt (comes with rebuild kit)Oil change (oil has no miles on it but hasnt been ran in a couple years)Breather air filterBody work and paint Possible fan relay replacement (someone installed toggle switch to power on blower fan for A/C / heat)Everything else checked over before deeming roadworthy When it last ran I had just replaced the radiator, both radiator hoses, both V-belts, heater hose, trans line, changed oil and filter, sprayed carburetor, and replaced passenger side front fender. Comes with: All side body chrome and extra windshield chromeAll casket rollersNew gas tank and fuel sending unitSpare driveshaftSpare hoodUsed battery5 extra commercial chassis wheelsSet of four wire Cadillac hubcapsNew dash capNew Carter mechanical fuel pumpReplacement taillight coversCarburetor rebuild kit (ethanol friendly kit I believe)New timing chain kitTwo sets of funeral flagsLeather Cadillac manual holderFactory Cadillac Dealer Service Manual (the big baby blue book) 1977 Miller-Meteor dealer posterSpare sunvisorscouple of casket keysUncut set of vintage nickel Cadillac crest keysSpare front chrome bumperBoth Miller-Meteor side emblemsand probably more things I have forgotten thats inside it. The interior is in great shape other than dash which will need patched over in a couple spots. The bench seat has one tear in the vinyl binding around the edge. The passenger side sunvisor will need repaired as it doesnt want to stay up. The casket area lighting will need replacement bulbs. The driver side door panel will need to be installed. I installed a rare driver side mirror with factory thermometer but the fiber optic lighting cable will need hooked up to light source. The casket table, which I was told is a Jewish roller setup, is in good shape but will need a good cleaning. I HAVE ALL HISTORY ON THIS VEHICLE FROM THE TIME THE CHASSIS LEFT GM TO EVERY FUNERAL HOME UP UNTIL WHEN I PURCHASED IT. ALL HISTORY IS PRINTED ON PAPERS SENT TO ME FROM THE DMV.I ALSO HAVE MANY RECEIPTS FROM PARTS PURCHASES KEPT IN A FOLDER. I also have a spare Cadillac 425 and Turbo 400 at different location for extra if interested. Overall as with many project cars for sale, this thing can be a stunner if it was someones main project and had the extra time and money to put into it. I will deeply regret selling this car but hopefully it can be seen in the same light by someone else. MORE PHOTOS TO BE ADDED WHEN THE WEATHER GIVES ME A DECENT DAY TO GET OUT. CAR IS CURRENTLY OUTSIDE UNDER COVER.THE PRICE REFLECTS MY HESITANCE TO SELL, I REALIZE SOME PEOPLE MAY THINK THE PRICE IS TOO HIGH FOR THEM.
Trim Landau Traditional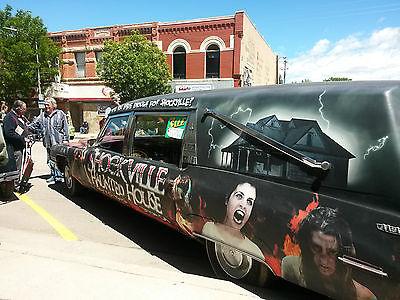 $8,765
Florence, Colorado
Category -
Mileage 38900
Posted Over 1 Month
This unique car was used in Georgia for a haunted house Shocksville. The vinyl wrap cost them $3500. and is covered with a haunted house, ghouls, vampires, goblins, zombies, etc. Reportedly they owed the bank $8000. on it so the bank took it back It is a little scary and at Halloween we have had a blast with it. This hearse has been featured in parades and on T.V. for the Emma Crawford Coffin Races. It is the only one in the world like it and is world famous. It has been overhauled has a low mileage 500 cc engine, has new carb, and lots of other improvements which now exceeds $12,000 having just had the speedometer fixed. It still needs more-like the heat and A.C. and horn + other cosmetics like some minor rust here and there-nothing serious that I can tell...runs great-just went 90 m.p.h. in it trying to catch a plane in Denver. This hearse weighs in at 6500 pounds. It's great for delivery and for antique buying....you can get a whole dining room set in it from a yard sale. We put some magnetic stickers advertising our town Florence as the Capitol of Antiques as we sell dead people's stuff. I have used it for a daily driver so you could probably figure on driving it home-otherwise have it transported since it is constantly in need-now having the speedometer cable fixed and the hood locks put on . There are some newer tires that a friend wants $150.00 for the set of 4. I realize that this car has become a money pit having spent $12,000 so I'll be realistic and price it to sell and listen to this I will drive it right up to your front door free of transportation charges providing you are a serious buyer and prepay half of the money up front! The reason for this I sold a car once on ebay drove it across the country and the individual changed his mind so here are the rules: If you prepay half of the money for the car-there is no charge for delivery. The balance is due in cash upon delivery. If upon delivery you change your mind then there will be a non-refundable $500. deposit and $1.00 per mile round trip cancellation charge. When you bid on this car you agree to these conditions. I will deliver the car at no extra cost to you anywhere in the mainland U.S.A. within an agreed upon time. Remember I have over $12,000. invested in it and I am presently having the mechanic do more so the buyer will be pleased! It maybe the best investment you every made for your business! Hearses and hearse clubs are the latest craze-just look on the internet! I have owned a number of hearses and I loved everyone of them...Have some fun-you'll meet some great folks! You will be surprised! Here are a few: Denver Hearse Association Nightmare Cruisers Hearse Club Grim Rides Hearse Club Just Hearse N Phantom Coaches Hearse Club The Hearse Club - Facebook Hardcore Hearse Club If you enjoy attention, this is the car to drive," "I don't have to own a $95,000 Jaguar, just this old hearse. For the amount of attention you get per dollar, it's the best buy in town!" Another article that sums it up well is: http://matadornetwork.com/life/why-driving-a-hearse-is-to-die-for/ 1971 was named the 100th Anniversary year for Miller-Meteor funeral cars and ambulances as their predecessor A.J. Miller had built it's first horse-drawn hearse in 1871. Cadillac introduced a totally new line of cars and Miller-Meteor introduced a totally new line of coaches.
Trim Chrome