Triumph cars for sale in Alabama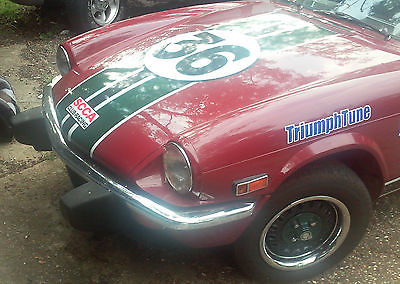 $9,000
Montgomery, Alabama
Up for your bidding is '78 Triumph Spitfire SCCA F/Production Tribute car. I looked long and hard to find one that met my criteria, and you're looking at it. This three previous owner Spit has 37,000 ORIGINAL MILES and... are you ready? ABSOLUTELY NO RUST. ANYWHERE. A magnet was taken over every square inch of body and it revealed NO FILLER to be found. An inspection of the chassis showed NO CORROSION on the frame, floor pans, trunk, or suspension. Alll work performed by McB's Autosport, a Restoration/Racing shop in Bridgeville, Pa. They went through the entire car, and anything that was suspect due to wear or age was replaced. I literally DOUBLED my initial investment PLUS...everything had to be right from a safety/performance standpoint, and that resulted in a significant outlay of time and money. It was worth it. Now, you can buy a four or five thousand dollar Spitfire, but unless you're incredibly lucky you're going to invest thousands more to get it right. That's all been done for you which means BIG SAVINGS in the end... A full TriumphTune exhaust was added from England, Pertronix ignition (NO POINTS), Weber down draft carb, new plugs and wires, new Cooper Tires, new radiator, brakes, lines and many more odds and ends to make it as reliable and trouble-free as possible. This Spitter fires right up and settles into a nice idle. EVERYTHING (Lights, signals, switches, etc.) WORKS. It runs, stops and handles just like it was intended. I love to listen to it crackle and pop of the exhaust on decel in a down hill 3rd gear bend. Totally Intoxicating. Clutch is light and strong, gearbox tight with no strange noises or smells...The throttle has a heavy return spring on the Weber carb that is evident on initial tip-in...more of an observation than a complaint...you can easily swap in a lighter spring/throttle cable if you like. other than that, it meters fuel beautifully. The ORIGINAL INTERIOR is absolutely beautiful. The door cards, as well as the carpet and dash cover, are mint with no rips, tears, or stains. The only deviation from stock was the addition of a turned aluminum dash. The paint looks to be an older respray, but it shines up great with a minimum of minor scratches and a miniscule ding or two. All in all, a subjective 7 out of 10 and nothing major to detract from the visual esthetics. Which brings us to this...I could've popped for new paint (and it'd be worthy), but truthfully, I'd just be worried about that first scratch or dent and wouldn't enjoy this car's true purpose, which is strafing the back roads on a sunny day. I decided instead to turn it into an SCCA F/Production Tribute car. For those of you who don't know, the Triumph Spitfire RULED the F/P class from the late Sixties throughout the Seventies, a remarkably dominant stretch in SCCA racing history. We added period correct graphics, as well as a competition roll bar and fire extinguisher to complete the transformation. It must have struck a chord, because shortly after completion this Spitfire took THIRD IN CLASS at the prestigious 33rd Annual British Car Days at the Vintage Grand Prix in Pittsburgh. 15 beautiful Spitfires, and this one took home 3rd behind a full nut and bolt restoration and an original '77 with super-low miles. This car has MOJO, quite apparent wherever it lands. Remember though...this is no new Z-06..It's a 37 year old car, and the driving experience is a throw-back...and I mean that in good way...It also means there's no warranty expressed or implied. Buyer responsible for shipping, I require a $500.00 deposit within 24 hours of the auction's end. One bid can own this cool little piece of history. Good Luck! The top is black and in excellent condition, save for one minor 2" tear above the passenger window where the top folds. Car has minor scratches in paint, one small oil leak in the front of engine.
Trim Base Convertible 2 Door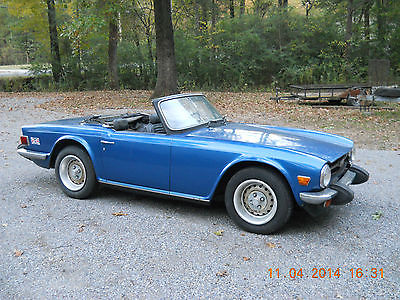 $5,500
Jemison, Alabama
Body has a few small scratches and dents, overall good condition. Top and interior needs repair. Runs and drives good. Purchased in estate sale. Title will have to be applied for.
Trim Base Convertible 2 Door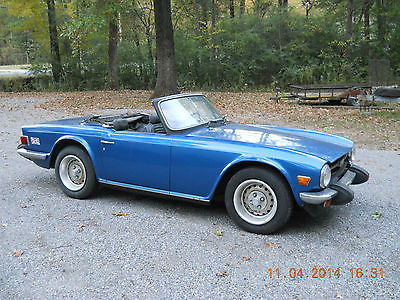 $6,000
Jemison, Alabama
Body has a few small scratches and dents, overall good condition. Top and interior needs repair. Runs and drives good. Purchased in estate sale. Title will have to be applied for.
Trim Base Convertible 2 Door