Toyota Pickup Truck cars for sale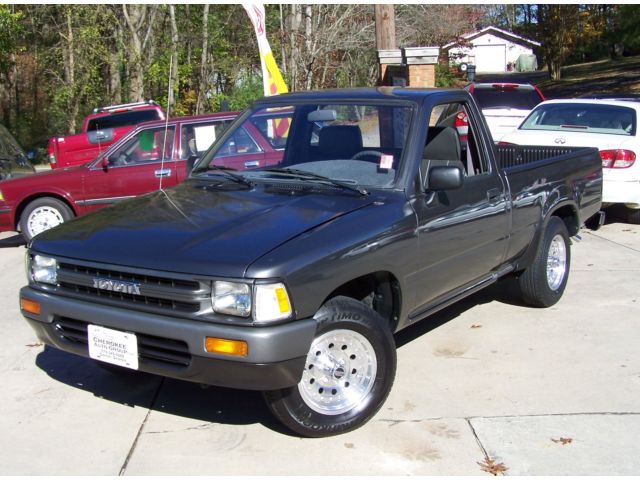 $6,990
Canton, Georgia
Category -
Mileage 50075
Posted Over 1 Month
View Free AutoCheck ReportYou Should Know What They Know! Over 5 million AutoCheck reports are run by consumers, dealers and auto auctions each month. WarrantyAS IS - NO WARRANTY This vehicle is being sold as is, where is with no warranty, expressed written or implied. The seller shall not be responsible for the correct description, authenticity, genuineness, or defects herein, and makes no warranty in connection therewith. No allowance or set aside will be made on account of any incorrectness, imperfection, defect or damage. Any descriptions or representations are for identification purposes only and are not to be construed as a warranty of any type. Please realize you are buying a used vehicle and repairs will be part of your ownership and not our responsibility or liability to help you with these costs no matter when and if they happen. It is the responsibility of the buyer to have thoroughly inspected the vehicle, and to have satisfied himself or herself as to the condition and value and to bid or buy based upon that judgement solely. Any 3rd party inspections will be done at sellers location before auction or listing close. Seller assumes no responsibility for any repairs regardless of any oral statements about the vehicle. These statements intend to cover the many methods that a very small minority of buyers may could use to try to take advantage of our ethical business practices if not covered up front. Buyer of this vehicle agrees to the terms of this as-is sale buy bidding or buying. About Us We love vehicles! No matter if it goes by land, sea or air we are into them! This business is truly our passion and I thank the good lord above we are doing what we love! It just does not get any better really enjoying your job! We do things quite differently. We are not just your typical dealer with a small patch of gravel and moble office! We have a state of the art 11000 square foot dealership with an indoor showroom and are very customer service friendly! We have over 20 years experience in the automotive industry so we know how to take care of customers and details and through the process treat you right just give us a try and see! We are here to stay and not some fly by night sled runners!Terms & Conditions If you are new to ebay and have a 0 next to your user name or if you have bad feedback please contact us before you bid with your intentions and full contact info so we can be assured you are familiar with on line bidding and assure us you realize you are bidding to purchase. If you choose not to do this we have no choice but to remove and block you from bidding. We fully realize we have to start somewhere feedback wise and there are bumps in the road. So if you are a reasonable person you will know where we are coming from so please comply and do as we ask. Winning bidder please contact us within 24 hours of auction end and let us know how and when you plan to handle completing your purchase. We do not guarantee any other state/providence inspections required by your DMV other than the ones required by our state of Georgia. It would be very unrealistic for you the buyer to assume that we have knowledge of your States/Providences inspection requirements. $500.00 non refundable deposit is due within 24 hours of end of auction. Pay Pal is preferred but you can easily over night a verifiable cashiers check or money order. The remainder is due within 5 days of auction end. If no contact is made within 24 hours we reserve the right to re-list the vehicle, sell it to the next high bidder, or sell it otherwise. Something you should be aware of! Most banks and credit unions do not finance vehicles older than 2002's or with more than 100K miles. However a lot of lenders may loan the money on you and not just the vehicle if you have a good relationship with them but please do us all a favor and make sure if financing your purchase that your financial institution accepts you the vehicle, year and miles of this unit before bidding that all should be understood but please get all that squared away prior to bidding. Buyer is responsible for pickup or shipping of this vehicle. She is located in Canton Ga 30115. We can keep vehicle at our location for up to two weeks at after sale date if you need longer than this time we will try to work with you. If no pre arrangement has been made there will be a $20 per day storage fee added after this time. If you wish to have it shipped using a service, we will gladly cooperate with your shipper on a time that's good for them and us! We deal with shippers all the time and know how to get the pick up squared away and yes a large 18 wheeler can access our facility. You can get a shipping quote by contacting us and we can arrange shipping for you! If you are not sure about something, please ask! Do not assume anything not listed is included. We reserve the right to cancel bids for excessive negative feedback. We reserve the right to end the listing if the vehicle is no longer available for sale. Please do not bid on this auction unless you are serious about owning this vehicle. We are very familiar with the laws about on line bidding so you know this is a legally binding contract and non paying bidders will be held responsible in case of an auction default and the costs incurred, and negative feedback will be posted. Any disputes over this transaction will be handled thru a third party binding arbitration in Cherokee County Georgia. Winning bidder agrees to our terms and conditions by bidding on this auction. Fee and Tax Information: Fees and Tax Information: We are a licensed and bonded Georgia dealer. As of March 1st 2013 no matter if you purchace a vehicle from an individual or dealer and you are a Georgia residence and vehicle will be reg in Georgia you the buyer are required to pay the new TAVT "Title Ad Valorem Tax" this fee is based on the vehicles 6.5% percentage value that the Department of Revenues est value.... here is a link for you to calculate the TAVT amount. http://onlinemvd.dor.ga.gov/TAP/vinnumber.aspx Titled motor vehicles purchaced will be exempt from sales tax and the annual ad valorem tax. Instead, these vehicles will be subject to a new TAVT that is based on the value of the vehicle as outlined above. We can also provide a 30 day temp tag at no charge! We are required by Georgia dmv to process your title for Georgia residence in your name so please have a current Georgia licence with a good address so you will receive title from state the fee the state charges is 18.00 for this. A 25.00 emissions fee will be added for Georgia residents only when required if you live in an emission required county. We have a 169.50 document fee this also includes a temporary 30 day tag! The document fee is for everyone including dealers added to all final winning auctions once res is met or accepted price that is less than our locally advertised price! Out of state buyers will pay their own tax's and fees in there own state. The 169.50 document fee will be included in our advertised listed pricing and "buy it now" ebay price. We do not collect other states tax or fees, that is something you will take care of when you reg and title your new ride! So all out of state buyers are required to pay is winning auction price and document fee that includes 30 day temporary tag as stated above. Also here is some helpful links for CANADA BUYERS! Please visit the following helpful links to assist you with importing your vehicle: http://www.riv.ca/english/html/how_to_import.html http://www.riv.ca/english/html/us_vehicle_admissibility.html See our other listingsDisclaimer: This auction is a legally binding contract to buy this vehicle. All vehicles are sold as-is unless otherwise specified. I have done my best to accurately describe this vehicle. It is up to the buyer to come see and further inspect the car before the end of the auction. --> http://i.ebayimg.com/00/s/MTE4MFgxNjAw/z/YrUAAOSwFGNWT1U~/$_5.JPGhttp://i.ebayimg.com/00/s/MTE4MFgxNjAw/z/YrUAAOSwFGNWT1U~/$_16.JPGhttp://i.ebayimg.com/00/s/MTIwMFgxNjAw/z/EPUAAOSwkZhWT1T8/$_5.JPGhttp://i.ebayimg.com/00/s/MTIwMFgxNjAw/z/EPUAAOSwkZhWT1T8/$_16.JPGhttp://i.ebayimg.com/00/s/MTIwMFgxNjAw/z/KdIAAOSwT4lWT1Gf/$_5.JPGhttp://i.ebayimg.com/00/s/MTIwMFgxNjAw/z/KdIAAOSwT4lWT1Gf/$_16.JPGhttp://i.ebayimg.com/00/s/MTIwMFgxNjAw/z/BP8AAOSwIwhWT1PC/$_5.JPGhttp://i.ebayimg.com/00/s/MTIwMFgxNjAw/z/BP8AAOSwIwhWT1PC/$_16.JPGhttp://i.ebayimg.com/00/s/Nzc3WDE2MDA=/z/FJoAAOSwZVhWT1Uv/$_5.JPGhttp://i.ebayimg.com/00/s/Nzc3WDE2MDA=/z/FJoAAOSwZVhWT1Uv/$_16.JPGhttp://i.ebayimg.com/00/s/MTIwMFgxNjAw/z/JAIAAOSwFGNWT1N-/$_5.JPGhttp://i.ebayimg.com/00/s/MTIwMFgxNjAw/z/JAIAAOSwFGNWT1N-/$_16.JPGhttp://i.ebayimg.com/00/s/MTIwMFgxNjAw/z/VqoAAOSw6dNWT1G3/$_5.JPGhttp://i.ebayimg.com/00/s/MTIwMFgxNjAw/z/VqoAAOSw6dNWT1G3/$_16.JPGhttp://i.ebayimg.com/00/s/MTIwMFgxNjAw/z/qTIAAOSwnGJWT1HL/$_5.JPGhttp://i.ebayimg.com/00/s/MTIwMFgxNjAw/z/qTIAAOSwnGJWT1HL/$_16.JPGhttp://i.ebayimg.com/00/s/MTIwMFgxNjAw/z/1UAAAOSwIwhWT1Hk/$_5.JPGhttp://i.ebayimg.com/00/s/MTIwMFgxNjAw/z/1UAAAOSwIwhWT1Hk/$_16.JPGhttp://i.ebayimg.com/00/s/MTIwMFgxNjAw/z/rY4AAOSwLzdWT1H5/$_5.JPGhttp://i.ebayimg.com/00/s/MTIwMFgxNjAw/z/rY4AAOSwLzdWT1H5/$_16.JPGhttp://i.ebayimg.com/00/s/MTIwMFgxNjAw/z/7hoAAOSwFGNWT1IN/$_5.JPGhttp://i.ebayimg.com/00/s/MTIwMFgxNjAw/z/7hoAAOSwFGNWT1IN/$_16.JPGhttp://i.ebayimg.com/00/s/MTIwMFgxNjAw/z/8XAAAOSwFGNWT1Il/$_5.JPGhttp://i.ebayimg.com/00/s/MTIwMFgxNjAw/z/8XAAAOSwFGNWT1Il/$_16.JPGhttp://i.ebayimg.com/00/s/MTYwMFgxMjAw/z/3ZEAAOSwIwhWT1I5/$_5.JPGhttp://i.ebayimg.com/00/s/MTYwMFgxMjAw/z/3ZEAAOSwIwhWT1I5/$_16.JPGhttp://i.ebayimg.com/00/s/MTIwMFgxNjAw/z/rcwAAOSweuxWT1JK/$_5.JPGhttp://i.ebayimg.com/00/s/MTIwMFgxNjAw/z/rcwAAOSweuxWT1JK/$_16.JPGhttp://i.ebayimg.com/00/s/MTIwMFgxNjAw/z/u~0AAOSwLzdWT1Jd/$_5.JPGhttp://i.ebayimg.com/00/s/MTIwMFgxNjAw/z/u~0AAOSwLzdWT1Jd/$_16.JPGhttp://i.ebayimg.com/00/s/MTIwMFgxNjAw/z/njkAAOSwEgVWT1ON/$_5.JPGhttp://i.ebayimg.com/00/s/MTIwMFgxNjAw/z/njkAAOSwEgVWT1ON/$_16.JPGhttp://i.ebayimg.com/00/s/MTIwMFgxNjAw/z/Kx4AAOSwFGNWT1On/$_5.JPGhttp://i.ebayimg.com/00/s/MTIwMFgxNjAw/z/Kx4AAOSwFGNWT1On/$_16.JPGhttp://i.ebayimg.com/00/s/MTIwMFgxNjAw/z/izQAAOSw4UtWT1Qm/$_5.JPGhttp://i.ebayimg.com/00/s/MTIwMFgxNjAw/z/izQAAOSw4UtWT1Qm/$_16.JPGhttp://i.ebayimg.com/00/s/MTIwMFgxNjAw/z/suIAAOSw6dNWT1Ub/$_5.JPGhttp://i.ebayimg.com/00/s/MTIwMFgxNjAw/z/suIAAOSw6dNWT1Ub/$_16.JPGhttp://i.ebayimg.com/00/s/MTA2NVgxNjAw/z/0F8AAOSwEgVWT1VN/$_5.JPGhttp://i.ebayimg.com/00/s/MTA2NVgxNjAw/z/0F8AAOSwEgVWT1VN/$_16.JPGhttp://i.ebayimg.com/00/s/MTIwMFgxNjAw/z/CBUAAOSweuxWT1Q-/$_5.JPGhttp://i.ebayimg.com/00/s/MTIwMFgxNjAw/z/CBUAAOSweuxWT1Q-/$_16.JPGhttp://i.ebayimg.com/00/s/MTYwMFgxMjAw/z/Ar8AAOSwiwVWT1SG/$_5.JPGhttp://i.ebayimg.com/00/s/MTYwMFgxMjAw/z/Ar8AAOSwiwVWT1SG/$_16.JPGhttp://i.ebayimg.com/00/s/MTIwMFgxNjAw/z/zIwAAOSwcdBWT1RV/$_5.JPGhttp://i.ebayimg.com/00/s/MTIwMFgxNjAw/z/zIwAAOSwcdBWT1RV/$_16.JPGhttp://i.ebayimg.com/00/s/MTIwMFgxNjAw/z/mWoAAOSwT4lWT1Ru/$_5.JPGhttp://i.ebayimg.com/00/s/MTIwMFgxNjAw/z/mWoAAOSwT4lWT1Ru/$_16.JPGhttp://i.ebayimg.com/00/s/MTIwMFgxNjAw/z/KCkAAOSwlV9WT1PX/$_5.JPGhttp://i.ebayimg.com/00/s/MTIwMFgxNjAw/z/KCkAAOSwlV9WT1PX/$_16.JPGhttp://i.ebayimg.com/00/s/MTIwMFgxNjAw/z/g2kAAOSw6dNWT1Nm/$_5.JPGhttp://i.ebayimg.com/00/s/MTIwMFgxNjAw/z/g2kAAOSw6dNWT1Nm/$_16.JPGhttp://i.ebayimg.com/00/s/MTIwMFgxNjAw/z/zwwAAOSwiwVWT1L2/$_5.JPGhttp://i.ebayimg.com/00/s/MTIwMFgxNjAw/z/zwwAAOSwiwVWT1L2/$_16.JPGhttp://i.ebayimg.com/00/s/MTIwMFgxNjAw/z/~KgAAOSwFGNWT1Jy/$_5.JPGhttp://i.ebayimg.com/00/s/MTIwMFgxNjAw/z/~KgAAOSwFGNWT1Jy/$_16.JPGhttp://i.ebayimg.com/00/s/MTIwMFgxNjAw/z/5DkAAOSwIwhWT1KG/$_5.JPGhttp://i.ebayimg.com/00/s/MTIwMFgxNjAw/z/5DkAAOSwIwhWT1KG/$_16.JPGhttp://i.ebayimg.com/00/s/MTIwMFgxNjAw/z/xgIAAOSwLzdWT1Kg/$_5.JPGhttp://i.ebayimg.com/00/s/MTIwMFgxNjAw/z/xgIAAOSwLzdWT1Kg/$_16.JPGhttp://i.ebayimg.com/00/s/MTYwMFgxMjAw/z/yN8AAOSwLzdWT1K1/$_5.JPGhttp://i.ebayimg.com/00/s/MTYwMFgxMjAw/z/yN8AAOSwLzdWT1K1/$_16.JPGhttp://i.ebayimg.com/00/s/MTIwMFgxNjAw/z/yZcAAOSwiwVWT1LK/$_5.JPGhttp://i.ebayimg.com/00/s/MTIwMFgxNjAw/z/yZcAAOSwiwVWT1LK/$_16.JPGhttp://i.ebayimg.com/00/s/MTIwMFgxNjAw/z/W~0AAOSwT4lWT1Lf/$_5.JPGhttp://i.ebayimg.com/00/s/MTIwMFgxNjAw/z/W~0AAOSwT4lWT1Lf/$_16.JPGhttp://i.ebayimg.com/00/s/MTIwMFgxNjAw/z/8r4AAOSwIwhWT1MF/$_5.JPGhttp://i.ebayimg.com/00/s/MTIwMFgxNjAw/z/8r4AAOSwIwhWT1MF/$_16.JPGhttp://i.ebayimg.com/00/s/MTIwMFgxNjAw/z/bpMAAOSw4UtWT1Md/$_5.JPGhttp://i.ebayimg.com/00/s/MTIwMFgxNjAw/z/bpMAAOSw4UtWT1Md/$_16.JPGhttp://i.ebayimg.com/00/s/MTIwMFgxNjAw/z/GGYAAOSwFGNWT1M0/$_5.JPGhttp://i.ebayimg.com/00/s/MTIwMFgxNjAw/z/GGYAAOSwFGNWT1M0/$_16.JPGhttp://i.ebayimg.com/00/s/MTIwMFgxNjAw/z/1A8AAOSwkZhWT1NM/$_5.JPGhttp://i.ebayimg.com/00/s/MTIwMFgxNjAw/z/1A8AAOSwkZhWT1NM/$_16.JPGhttp://i.ebayimg.com/00/s/MTIwMFgxNjAw/z/iqQAAOSwT4lWT1P-/$_5.JPGhttp://i.ebayimg.com/00/s/MTIwMFgxNjAw/z/iqQAAOSwT4lWT1P-/$_16.JPGhttp://i.ebayimg.com/00/s/MTIwMFgxNjAw/z/Ld8AAOSwlV9WT1QP/$_5.JPGhttp://i.ebayimg.com/00/s/MTIwMFgxNjAw/z/Ld8AAOSwlV9WT1QP/$_16.JPGhttp://i.ebayimg.com/00/s/MTIwMFgxNjAw/z/PnkAAOSwlV9WT1Sg/$_5.JPGhttp://i.ebayimg.com/00/s/MTIwMFgxNjAw/z/PnkAAOSwlV9WT1Sg/$_16.JPGhttp://i.ebayimg.com/00/s/MTIwMFgxNjAw/z/2OIAAOSwcdBWT1Sy/$_5.JPGhttp://i.ebayimg.com/00/s/MTIwMFgxNjAw/z/2OIAAOSwcdBWT1Sy/$_16.JPGhttp://i.ebayimg.com/00/s/MTYwMFgxMjAw/z/U0IAAOSwFGNWT1TI/$_5.JPGhttp://i.ebayimg.com/00/s/MTYwMFgxMjAw/z/U0IAAOSwFGNWT1TI/$_16.JPGhttp://i.ebayimg.com/00/s/MTIwMFgxNjAw/z/GfEAAOSwLzdWT1Td/$_5.JPGhttp://i.ebayimg.com/00/s/MTIwMFgxNjAw/z/GfEAAOSwLzdWT1Td/$_16.JPGhttp://i.ebayimg.com/00/s/MTIwNFgxNjAw/z/FisAAOSwkZhWT1Uk/$_5.JPGhttp://i.ebayimg.com/00/s/MTIwNFgxNjAw/z/FisAAOSwkZhWT1Uk/$_16.JPGhttp://i.ebayimg.com/00/s/MTI2M1gxNjAw/z/ZjUAAOSwFGNWT1VZ/$_5.JPGhttp://i.ebayimg.com/00/s/MTI2M1gxNjAw/z/ZjUAAOSwFGNWT1VZ/$_16.JPGhttp://i.ebayimg.com/00/s/MTIyMVgxNjAw/z/Z6QAAOSwFGNWT1Vj/$_5.JPGhttp://i.ebayimg.com/00/s/MTIyMVgxNjAw/z/Z6QAAOSwFGNWT1Vj/$_16.JPGhttp://i.ebayimg.com/00/s/MTIwMFgxNjAw/z/wm4AAOSwT4lWT1V2/$_5.JPGhttp://i.ebayimg.com/00/s/MTIwMFgxNjAw/z/wm4AAOSwT4lWT1V2/$_16.JPGhttp://i.ebayimg.com/00/s/MTI1MlgxNjAw/z/8csAAOSwcdBWT1V~/$_5.JPGhttp://i.ebayimg.com/00/s/MTI1MlgxNjAw/z/8csAAOSwcdBWT1V~/$_16.JPGhttp://i.ebayimg.com/00/s/OTg1WDE2MDA=/z/M24AAOSweuxWT1WO/$_5.JPGhttp://i.ebayimg.com/00/s/OTg1WDE2MDA=/z/M24AAOSweuxWT1WO/$_16.JPGhttp://i.ebayimg.com/00/s/MTIwMFgxNjAw/z/IewAAOSwnGJWT1Wb/$_5.JPGhttp://i.ebayimg.com/00/s/MTIwMFgxNjAw/z/IewAAOSwnGJWT1Wb/$_16.JPGhttp://i.ebayimg.com/00/s/MTYwMFgxMjAw/z/wZIAAOSw6dNWT1Wv/$_5.JPGhttp://i.ebayimg.com/00/s/MTYwMFgxMjAw/z/wZIAAOSw6dNWT1Wv/$_16.JPGhttp://i.ebayimg.com/00/s/MTYwMFgxMjAw/z/QRQAAOSweuxWT1XQ/$_5.JPGhttp://i.ebayimg.com/00/s/MTYwMFgxMjAw/z/QRQAAOSweuxWT1XQ/$_16.JPGhttp://i.ebayimg.com/00/s/MTIwMFgxNjAw/z/x-cAAOSw6dNWT1Xi/$_5.JPGhttp://i.ebayimg.com/00/s/MTIwMFgxNjAw/z/x-cAAOSw6dNWT1Xi/$_16.JPGhttp://i.ebayimg.com/00/s/MTIwMFgxNjAw/z/hMcAAOSwsFpWT1Xv/$_5.JPGhttp://i.ebayimg.com/00/s/MTIwMFgxNjAw/z/hMcAAOSwsFpWT1Xv/$_16.JPGhttp://i.ebayimg.com/00/s/MTIwMFgxNjAw/z/fagAAOSwFGNWT1YD/$_5.JPGhttp://i.ebayimg.com/00/s/MTIwMFgxNjAw/z/fagAAOSwFGNWT1YD/$_16.JPGhttp://i.ebayimg.com/00/s/MTYwMFgxMjAw/z/gEsAAOSwFGNWT1YX/$_5.JPGhttp://i.ebayimg.com/00/s/MTYwMFgxMjAw/z/gEsAAOSwFGNWT1YX/$_16.JPGhttp://i.ebayimg.com/00/s/MTIwMFgxNjAw/z/0IoAAOSw6dNWT1Yu/$_5.JPGhttp://i.ebayimg.com/00/s/MTIwMFgxNjAw/z/0IoAAOSw6dNWT1Yu/$_16.JPGhttp://i.ebayimg.com/00/s/MTYwMFgxMjAw/z/NhIAAOSwnGJWT1ZH/$_5.JPGhttp://i.ebayimg.com/00/s/MTYwMFgxMjAw/z/NhIAAOSwnGJWT1ZH/$_16.JPGhttp://i.ebayimg.com/00/s/OTIyWDE2MDA=/z/6sUAAOSwEgVWT1ZS/$_5.JPGhttp://i.ebayimg.com/00/s/OTIyWDE2MDA=/z/6sUAAOSwEgVWT1ZS/$_16.JPGhttp://i.ebayimg.com/00/s/MTIwMFgxNjAw/z/Xi8AAOSweuxWT1Zq/$_5.JPGhttp://i.ebayimg.com/00/s/MTIwMFgxNjAw/z/Xi8AAOSweuxWT1Zq/$_16.JPGhttp://i.ebayimg.com/00/s/MTIwMFgxNjAw/z/cE8AAOSwlV9WT1Z-/$_5.JPGhttp://i.ebayimg.com/00/s/MTIwMFgxNjAw/z/cE8AAOSwlV9WT1Z-/$_16.JPGhttp://i.ebayimg.com/00/s/MTIwMFgxNjAw/z/zNUAAOSw4UtWT1aW/$_5.JPGhttp://i.ebayimg.com/00/s/MTIwMFgxNjAw/z/zNUAAOSw4UtWT1aW/$_16.JPGhttp://i.ebayimg.com/00/s/MTIwMFgxNjAw/z/U~cAAOSwIwhWT1ar/$_5.JPGhttp://i.ebayimg.com/00/s/MTIwMFgxNjAw/z/U~cAAOSwIwhWT1ar/$_16.JPGhttp://i.ebayimg.com/00/s/OTQ2WDE2MDA=/z/RT0AAOSwnGJWT1a1/$_5.JPGhttp://i.ebayimg.com/00/s/OTQ2WDE2MDA=/z/RT0AAOSwnGJWT1a1/$_16.JPGhttp://i.ebayimg.com/00/s/MTIwMFgxNjAw/z/swkAAOSwsFpWT1fJ/$_5.JPGhttp://i.ebayimg.com/00/s/MTIwMFgxNjAw/z/swkAAOSwsFpWT1fJ/$_16.JPGhttp://i.ebayimg.com/00/s/MTYwMFgxNTQ4/z/0RsAAOSw4UtWT1bC/$_5.JPGhttp://i.ebayimg.com/00/s/MTYwMFgxNTQ4/z/0RsAAOSw4UtWT1bC/$_16.JPGhttp://i.ebayimg.com/00/s/MTIwMFgxNjAw/z/Pe8AAOSwZVhWT1bU/$_5.JPGhttp://i.ebayimg.com/00/s/MTIwMFgxNjAw/z/Pe8AAOSwZVhWT1bU/$_16.JPGhttp://i.ebayimg.com/00/s/MTIwMFgxNjAw/z/nxUAAOSwsFpWT1bq/$_5.JPGhttp://i.ebayimg.com/00/s/MTIwMFgxNjAw/z/nxUAAOSwsFpWT1bq/$_16.JPGhttp://i.ebayimg.com/00/s/MTYwMFgxMjAw/z/IOoAAOSwcdBWT1b4/$_5.JPGhttp://i.ebayimg.com/00/s/MTYwMFgxMjAw/z/IOoAAOSwcdBWT1b4/$_16.JPGhttp://i.ebayimg.com/00/s/MTYwMFgxNTE2/z/ousAAOSwFGNWT1cC/$_5.JPGhttp://i.ebayimg.com/00/s/MTYwMFgxNTE2/z/ousAAOSwFGNWT1cC/$_16.JPGhttp://i.ebayimg.com/00/s/MTIwMFgxNjAw/z/6JoAAOSw6dNWT1cX/$_5.JPGhttp://i.ebayimg.com/00/s/MTIwMFgxNjAw/z/6JoAAOSw6dNWT1cX/$_16.JPGhttp://i.ebayimg.com/00/s/MTIwMFgxNjAw/z/Y~wAAOSwkZhWT1cp/$_5.JPGhttp://i.ebayimg.com/00/s/MTIwMFgxNjAw/z/Y~wAAOSwkZhWT1cp/$_16.JPGhttp://i.ebayimg.com/00/s/MTIwMFgxNjAw/z/q50AAOSwFGNWT1c8/$_5.JPGhttp://i.ebayimg.com/00/s/MTIwMFgxNjAw/z/q50AAOSwFGNWT1c8/$_16.JPGhttp://i.ebayimg.com/00/s/MTIwMFgxNjAw/z/Sp0AAOSwZVhWT1dc/$_5.JPGhttp://i.ebayimg.com/00/s/MTIwMFgxNjAw/z/Sp0AAOSwZVhWT1dc/$_16.JPGhttp://i.ebayimg.com/00/s/MTIwMFgxNjAw/z/bWUAAOSwkZhWT1du/$_5.JPGhttp://i.ebayimg.com/00/s/MTIwMFgxNjAw/z/bWUAAOSwkZhWT1du/$_16.JPGhttp://i.ebayimg.com/00/s/MTIwMFgxNjAw/z/5XcAAOSw4UtWT1eB/$_5.JPGhttp://i.ebayimg.com/00/s/MTIwMFgxNjAw/z/5XcAAOSw4UtWT1eB/$_16.JPGhttp://i.ebayimg.com/00/s/MTIwMFgxNjAw/z/uUUAAOSwFGNWT1eV/$_5.JPGhttp://i.ebayimg.com/00/s/MTIwMFgxNjAw/z/uUUAAOSwFGNWT1eV/$_16.JPGhttp://i.ebayimg.com/00/s/MTIwMFgxNjAw/z/dmkAAOSwkZhWT1eo/$_5.JPGhttp://i.ebayimg.com/00/s/MTIwMFgxNjAw/z/dmkAAOSwkZhWT1eo/$_16.JPGhttp://i.ebayimg.com/00/s/MTIwMFgxNjAw/z/HRUAAOSwT4lWT1e6/$_5.JPGhttp://i.ebayimg.com/00/s/MTIwMFgxNjAw/z/HRUAAOSwT4lWT1e6/$_16.JPGNEAT-1-OWNER-RUST-FREE-CALIFORNIA-SHORT-BED-ALLOYS-REG-CAB-PRE-TACOMA-POST-HILUXYear1989MakeToyotaModelPickupVINJT4RN81PXK0031424Stock Number1932Mileage50075TransmissionManualEngine4 Cylinder, 2.4 LExterior ColorGrayInterior ColorGrayTitleClear5-Speed ManualAM/FM StereoAlloy WheelsBed LinerCassette playerChrome WheelsCoolant Temp. GaugeCourtesy LightsHalogen HeadlampsInterior Hood ReleaseMetallic PaintPower BrakesPremium Sound SystemRadial tiresRear-Wheel DriveSuper nice 1-owner 50k org mile non work truck regular cab 2wd short bed fuel inj 22R-E 2.4L 5-spd truck! This rock solid rust free low mile Toyota has spent is whole life in California and just arrived here in Ga! This truck has Alpine am/fm/cass, nice polished American Racing alloys and nice set of tires, bedliner and much more! The fuel injected 2.4L 4-cyl runs smooth and 5-speed shifts out spot on! Clean slick grey paint and nice straight body with only a few dings! Nice clean interior and seat is nice and comfy! Pristine engine bay and clean undercarrage! We have had many of these recentley and over the years with close to same miles and 2 and 3-4-5 times the miles and every one has sold to new owners these 89-97 Toyota Trucks are super neat trucks and last and last! This is one great find for what you are spending we have this one priced to sell and not priced to haggle! See our other listings? CLICK THE LINK "SEE OUR OTHER LISTINGS" FOR MORE OF OUR ITEMS LISTED RIGHT NOW ON EBAY!? ***BE SURE TO SCROLL DOWN TO VIEW THE MANY PHOTOS ON THIS ONE!*** www.cherokeeautogroup.com This vehicle is loaded with features so check out equipment list in ad! Also you can view our many other listings going on right now for more great finds by simply looking in my ebay store and clicking on the tab marked ebay store in the upper right hand of this listing! BUYING OVER THE INTERNET SHOULD BE A THRILL WHEN YOU HAVE THE RIGHT SOLID SELLER LIKE US... AND THE RIGHT VEHICLE! SO TO MAKE THIS LISTING INTERESTING & FUN.... WE LISTENED TO LOTS OUR CUSTOMERS! THEY LIKE THE WAY WE LIST OUR UNITS WITH A SIMPLE "BUY IT NOW" SO TO GO WITH TRADTION WE HAVE THIS TOYOTA & PRICED IT RIGHT AND MATCHES ITS QUALITY! IF YOU LIKE TO JACK AROUND BID FOR DAYS IN HOPES TO GET A DEAL AND CHASE A RESERVE BID ONLY TO LOUSE THE AUCTION TO ANOTHER BIDDER ON A UNIT YOU HAD TO HAVE! WELL THAT NOT GOING TO HAPPEN HERE. SIMPLY USE THE "BUY IT NOW" COMPLETE TRANSACTION AND SHE IS YOURS! WE FEEL THE NEW OWNER SHOULD LOVE THIS UNIT! ANY QUESTIONS ON THAT CALL US TO DISCUSS AT DEALERSHIP 770-345-0282 ASK FOR DAVID MOSLEY! WE CAN ASSIST AND TAKE CARE OF SHIPPING THIS VEHICLE AT NEW OWNERS EXPENSE THRU-OUT USA AND WORLD WIDE WITH PROPER INFO AND HELP FROM INTERNATIONAL BUYERS JUST ASK AND WE CAN FACILITATE IT FOR NEW OWNER! PLEASE REALIZE WE ARE SHIPPING BROKERS AND WILL HANDLE THIS FOR NEW OWNER AS QUICKLY AS POSSIBLE! IF YOU ARE NEW TO EBAY OR HAVE POOR FEEDBACK PLEASE SUBMITED YOUR CONTACT NUMBER BEFORE YOU BID SO WE CAN CALL YOU TO DISCUSS HOW YOU WILL COMPLETE TRANSACTION SHOULD YOU WIN AUCTION. ALSO REVIEW THE MANY PHOTOS ON THIS BABY I DO THIS UP FRONT UNLIKE COUNTLESS OTHER ADS YOU WILL COME ACROSS. THIS EFFORT IS MADE SO BUYER CAN MAKE A GOOD DECISION ON GETTING HER AND FEEL COMFORTABLE WITH THERE PURCHASE. I WILL PUT IN THIS DISCLAMER FOR THE 1 PERCENTER NUT'S THAT THINK THEY ARE BUYING A BRAND NEW TOYOTA....THIS IS IN EXTRA CLEAN CONDITION AS YOU CAN SEE! IT IS REALLY VERY VERY NICE FOR AGE AND MILES. PLEASE REMEMBER IT IS USED AND 26 YEARS OLD AND MAY SHOW A SCUFF, DINGS, BLIMISHS, MINOR WEAR OR USE THAT SHOW ON A 26 YEAR OLD THAT HAS BEEN DRIVEN 50K SO IF THAT KEEPS YOU UP AT NIGHT PLEASE BUY A BRAND NEW ONE AND NOT THIS NICE 1989. PLEASE REVIEW MY FEEDBACK AND SEE I HAVE SOLD OTHER HIGH DOLLAR ITEMS AND NOT A BOX OF KLEENEX OR WAX CANDLES AND TELL IT LIKE IT IS FOR NO DISAPPOINTMENTS. PEOPLE ARE PLEASED WITH MY REPRESENTATION PERIOD. PLEASE ASK YOURSELF A QUESTION WHY FIX UP AN OLD SLED VEHCILE WHEN YOU CAN ENJOY AND DRIVE THIS ONE NOW AND SAVE BIG IT DOES MAKE SENSE! WITH THIS ONE BEING SOLID NICE AND CLEAN! MAKE IT ONE TO SNAP UP SHOULD NOT LAST LONG AT THIS DEAL. The previous owner looks like a non-smoker. This shows to have been a garage kept vehicle. The engine on this vehicle is running well and feels strong. The exterior finish on this truck is in very good condition with only a few dings. The interior is in excellent condition and vinal is soft and could not show much nicer for age. The seat shows perfect and sits nice and shows no wear! Dash has a few cracks but has nice looking dash cover to spice up interior! There is approximately 90% of the tire tread remaining on tires. The mileage represented on this vehicle looks to be accurate Carfax vin history backs this. This vehicle has a smooth shifting transmission. Take a moment to visit my ebay store by clicking on the tab in top right of this listing to see the many other vehicles we have listed right now on ebay! If you are over 200 miles from our zip code 30115 some of our local classified ebay listings will not show so you can use the advanced search tab on ebay and seach dealer vehicles closest to zip code 30115! If you have any questions about this or any of my other auctions please feel free to contact me via e-mail or you can call us for a quicker response on our local # 770-345-0282. Thank you for your interest and we look forward to hearing from you you can ask for David Mosley or Danny Ryder! www.cherokeeautogroup.com Canton Georgia. AS IS - NO WARRANTYThis vehicle is being sold as is, where is with no warranty, expressed written or implied. The seller shall not be responsible for the correct description, authenticity, genuineness, or defects herein, and makes no warranty in connection therewith. No allowance or set aside will be made on account of any incorrectness, imperfection, defect or damage. Any descriptions or representations are for identification purposes only and are not to be construed as a warranty of any type. Please realize you are buying a used vehicle and repairs will be part of your ownership and not our responsibility or liability to help you with these costs no matter when and if they happen. It is the responsibility of the buyer to have thoroughly inspected the vehicle, and to have satisfied himself or herself as to the condition and value and to bid or buy based upon that judgement solely. Any 3rd party inspections will be done at sellers location before auction or listing close. Seller assumes no responsibility for any repairs regardless of any oral statements about the vehicle. These statements intend to cover the many methods that a very small minority of buyers may could use to try to take advantage of our ethical business practices if not covered up front. Buyer of this vehicle agrees to the terms of this as-is sale buy bidding or buying. If you are new to ebay and have a 0 next to your user name or if you have bad feedback please contact us before you bid with your intentions and full contact info so we can be assured you are familiar with on line bidding and assure us you realize you are bidding to purchase. If you choose not to do this we have no choice but to remove and block you from bidding. We fully realize we have to start somewhere feedback wise and there are bumps in the road. So if you are a reasonable person you will know where we are coming from so please comply and do as we ask. Winning bidder please contact us within 24 hours of auction end and let us know how and when you plan to handle completing your purchase. We do not guarantee any other state/providence inspections required by your DMV other than the ones required by our state of Georgia. It would be very unrealistic for you the buyer to assume that we have knowledge of your States/Providences inspection requirements. $500.00 non refundable deposit is due within 24 hours of end of auction. Pay Pal is preferred but you can easily over night a verifiable cashiers check or money order. The remainder is due within 5 days of auction end. If no contact is made within 24 hours we reserve the right to re-list the vehicle, sell it to the next high bidder, or sell it otherwise. Something you should be aware of! Most banks and credit unions do not finance vehicles older than 2002's or with more than 100K miles. However a lot of lenders may loan the money on you and not just the vehicle if you have a good relationship with them but please do us all a favor and make sure if financing your purchase that your financial institution accepts you the vehicle, year and miles of this unit before bidding that all should be understood but please get all that squared away prior to bidding. Buyer is responsible for pickup or shipping of this vehicle. She is located in Canton Ga 30115. We can keep vehicle at our location for up to two weeks at after sale date if you need longer than this time we will try to work with you. If no pre arrangement has been made there will be a $20 per day storage fee added after this time. If you wish to have it shipped using a service, we will gladly cooperate with your shipper on a time that's good for them and us! We deal with shippers all the time and know how to get the pick up squared away and yes a large 18 wheeler can access our facility. You can get a shipping quote by contacting us and we can arrange shipping for you! If you are not sure about something, please ask! Do not assume anything not listed is included. We reserve the right to cancel bids for excessive negative feedback. We reserve the right to end the listing if the vehicle is no longer available for sale. Please do not bid on this auction unless you are serious about owning this vehicle. We are very familiar with the laws about on line bidding so you know this is a legally binding contract and non paying bidders will be held responsible in case of an auction default and the costs incurred, and negative feedback will be posted. Any disputes over this transaction will be handled thru a third party binding arbitration in Cherokee County Georgia. Winning bidder agrees to our terms and conditions by bidding on this auction. Fee and Tax Information: Fees and Tax Information: We are a licensed and bonded Georgia dealer. As of March 1st 2013 no matter if you purchace a vehicle from an individual or dealer and you are a Georgia residence and vehicle will be reg in Georgia you the buyer are required to pay the new TAVT "Title Ad Valorem Tax" this fee is based on the vehicles 6.5% percentage value that the Department of Revenues est value.... here is a link for you to calculate the TAVT amount. http://onlinemvd.dor.ga.gov/TAP/vinnumber.aspx Titled motor vehicles purchaced will be exempt from sales tax and the annual ad valorem tax. Instead, these vehicles will be subject to a new TAVT that is based on the value of the vehicle as outlined above. We can also provide a 30 day temp tag at no charge! We are required by Georgia dmv to process your title for Georgia residence in your name so please have a current Georgia licence with a good address so you will receive title from state the fee the state charges is 18.00 for this. A 25.00 emissions fee will be added for Georgia residents only when required if you live in an emission required county. We have a 169.50 document fee this also includes a temporary 30 day tag! The document fee is for everyone including dealers added to all final winning auctions once res is met or accepted price that is less than our locally advertised price! Out of state buyers will pay their own tax's and fees in there own state. The 169.50 document fee will be included in our advertised listed pricing and "buy it now" ebay price. We do not collect other states tax or fees, that is something you will take care of when you reg and title your new ride! So all out of state buyers are required to pay is winning auction price and document fee that includes 30 day temporary tag as stated above.Also here is some helpful links for CANADA BUYERS! Please visit the following helpful links to assist you with importing your vehicle: http://www.riv.ca/english/html/how_to_import.htmlhttp://www.riv.ca/english/html/us_vehicle_admissibility.html We love vehicles! No matter if it goes by land, sea or air we are into them! This business is truly our passion and I thank the good lord above we are doing what we love! It just does not get any better really enjoying your job! We do things quite differently. We are not just your typical dealer with a small patch of gravel and moble office! We have a state of the art 11000 square foot dealership with an indoor showroom and are very customer service friendly! We have over 20 years experience in the automotive industry so we know how to take care of customers and details and through the process treat you right just give us a try and see! We are here to stay and not some fly by night sled runners!This auction is a legally binding contract to buy this vehicle. All vehicles are sold as-is unless otherwise specified. I have done my best to accurately describe this vehicle. It is up to the buyer to come see and further inspect the car before the end of the auction.-->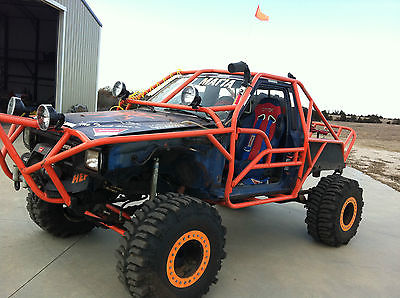 $5,600
Oklahoma City, Oklahoma
Category -
Mileage 999999
Posted Over 1 Month
This bad machine will FLEX!! I have owned it for a few years and am selling to make room for something else. Some features include: -Massive Mud Bogger "Super Swamper" tires w/ beads (includes spare) -Full custom built roll cage -Adjustable racing seats w/ 3 point seat harness -Multiple winches w/ remotes (front Warn winch doesnt work) -Snorkle air intake system -Exhaust stack -Hydroalic power steering w/ stabilizers -Lift kit w/ Rancho shocks & leaf springs -Adjustable body "stance" using winch -Liteforce auxillary lamps (front & rear) -Neon undercarriage lights all around -Brand new carburetor -Compact fuel tank -Many engine enhancements -Swapped axles -Includes both doors if needed Will send more images upon request. Serious buyers only!!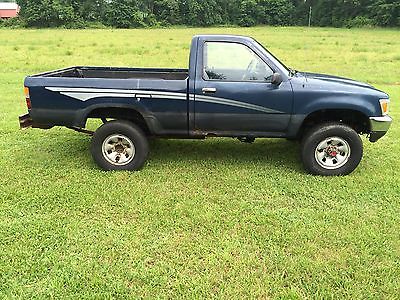 $2,500
Abbottstown, Pennsylvania
Category -
Mileage 249999
Posted Over 1 Month
1990 Toyota Pickup with 5 speed manual 4 cylinder 4x4. This truck has a rough body with rust around wheel wells, rockers, and doors. However the frame on the truck is good! It does have some surface rust in some areas but still very solid. Front bumper and valance and passenger fender have body damage. Truck has 250k but engine was replaced at some point, timing chain and guides all in good shape, fluids clean. Truck runs, drives, rides nice and everything works. Has air conditioning works decent has new compressor and a CD player too. New clutch slave and master cylinder. Tires are okay and will pass inspection. All glass is good. Floors and bed floor still good. Needs inspection. If the body was patched up or some panels replaced it would make a nice little truck with solid chassis and drive train Please email with any questions you may have.Thanks!
Trim SR5 Standard Cab Pickup 2 Door