Packard cars for sale in Iowa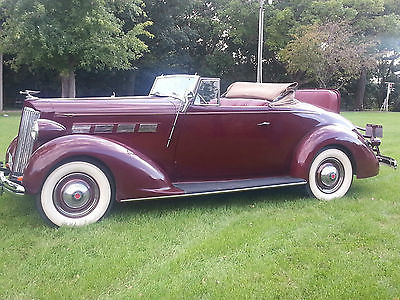 $62,500
Boone, Iowa
'37 Packard 120 Convertible, fully restored, eng o/h OD, radio, rumble seat, rechromed, new rubber seals, heartstop cloth top.
Trim Rumble Seat Convertible 2 Door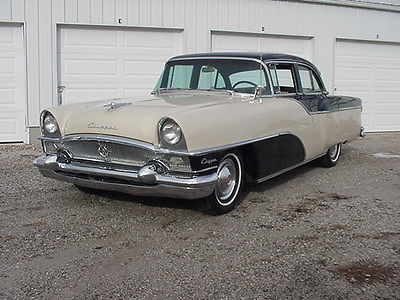 $15,950
Fort Dodge, Iowa
Category -
Mileage 68600
Posted Over 1 Month
Wow, Talk About A Fifties Land Yacht !!! This Smooth, Straight, Solid and Shiny, Air Conditioned, 1955 Packard Clipper Custom, Is A True Luxury Cruiser !!! These Magnificent Packard Automobiles Beat Cadillac and Lincoln In Both Comfort and Performance !!! These were the cars that were sure to make the neighbors jealous when the original owners brought them home !!! This Car Is A 68,600 Actual Mile, UN-RESTORED, ORIGINAL SURVIVOR. One of 8,708 produced And One of 43 Believed To Exist IN THE WORLD !!!! You will be hard pressed to find a nicer example ANYWHERE for this money !!! ************** This car has been part of a large private collection for many, many years. The owner was my friend Russ and this was his favorite car for tours and general cruising. Russ bought this car from another collector in DRY, DRY, IDAHO High Country which accounts for it's LACK of RUST. It is VERY, VERY SOLID. Russ always stored it in a climate controlled facility. This car never sat in a Farmers Barn, a field or a junkyard. It instead sat in a loving owner's garage. It was not pieced together with bits and pieces from junk or abandoned cars. I am pretty sure most of the parts here were installed by Packard Factory Workers on the assembly line. Sadly, Russ passed away last year and now his collection is being dispersed. THIS IS YOUR CHANCE TO GET A GREAT DEAL ON A WONDERFUL OLD CAR !!! Here Are The Details; BODY- SUPER SOLID. I would say this car is virtually RUST-FREE. I have seen no evidence of major rust or rust repair. This car is VERY STRAIGHT, shows minimal wear and tear and I see NO EVIDENCE OF CRASH REPAIR. The hood, doors and trunk line up nicely and shut with a CLICK. Is it perfect? No…it is 60 years old and has a couple of MINOR dings and such. To expect me to try to give a description like "there is a BB sized ding 4 inches below the right rear door handle at a 47 degree angle is ludicrous. All in all a VERY NICE BODY. PAINT- SMOOTH and SHINY.As far as I can tell this car has had one professional repaint since new. The area that is now Tan was originally Canary Yellow. The Raven Black area has always been black. The refinish is smooth and shiny with no orange peel and nice depth. The trim was removed prior to painting. I have an auto restoration shop and know a good job from a bad one. I would say this was done correctly. The paint on the firewall is original. NICE PAINT !!! ENGINE and TRANSMISSION- I am told this is the original 352 Cubic Inch 245 Horse Power Overhead Valve V-8 engine. This was the first year for the Overhead and this is the High Power OPTION for the Clippers. 4-bbl carburetor with the optional Ultramatic Automatic Trans mission. The engine starts easily and runs well with no strange noises. The transmission shifts as it should and will occasionally leak some fluid after it has been sitting awhile which I am told is normal for these machines. The rear end is quiet. Russ annually took this car to a Packard expert in Minnesota for servicing and a tune up as he wanted it ready to go anywhere he desired at a moment's notice. Knowing Russ as I did, I would think if it had any problems he would have addressed them. Exhaust is quiet with no leaks. RUNS WELL !!! INTERIOR- Very Classy tan and black cloth fabric done in the original style. NO RIPS, NO WEAR and TEAR. NEVER SMOKED IN !!! Carpet is nice. Dash has the ORIGINAL BLACK PAINT as I believe the Garnish Moldings also have. Dash Chrome is very nice. Nice steering Wheel and Horn Ring. NICE INTERIOR !!! CHROME and TRIM – EXCELLENT ORIGINAL. Fifties cars are all about the chrome and trim and this car is nice. I believe it is all ORIGINAL. The Bumpers and Grill are shiny. The Diecast is in good condition and the Stainless is as well. Is it perfect? No. Again it is 60 years old and has a tweak or a ding here or there but nothing you would need to address unless you want to. VERY NICE TRIM !!! SUSPENSION and BRAKES- Factory POWER BRAKES and Torsion-Level Suspension. Seem to be working as they should but I have not driven the car a lot and I am not an expert. The car has been mostly sitting for the last couple of years because of Russ' illness. As with any old car I would suggest checking things out before you do a long trip. WHEELS and TIRES- Original type steel wheels and Hub Caps with newer style Radial Whitewall tires. Tread looks good but I'm not sure how old they are. GLASS- GOOD. No cracks. I think most of it is ORIGINAL and properly Date Coded. OTHER STUFF- Air Conditioning is Vintage Air Type aftermarket and was working well when it was last used. Might need a recharge but it is Winter here and hard to tell. At any rate it is modern stuff that today's techs should be able to work on. FACTORY POWER ANTENNA WORKS ( that's got to be kind of rare). Lights light. Gauges gauge. Wipers wipe. Horn toots. That's about it. As you can see I have tried to cover it. IF YOU HAVE QUESTIONS PLEASE EMAIL OR CALL. I am a straight shooter and will not knowingly misrepresent anything. The car is presently stored for the Winter but you are welcome to come and inspect it. Remember, it is Winter here in Iowa and the roads are covered with ice, snow and road salt. Thus, there will be no test drives as I do not want to subject this car to potential damage. Come to think of it you don't get a test drive at Barrett Jackson, Mecum, RM or any other Auction either. Is this car perfect ? No. There is no such thing as a perfect car !!! Is this car nice ? Yes, this car is very nice !!! Is this a car I can drive with PRIDE ? Yes !!! YOU CAN BUY THIS CAR TODAY FOR FAR LESS THAN YOU CAN DUPLICATE IT !!! IT IS READY TO GO TODAY WITH NO FOUR YEAR WAIT WHILE A SHOP RESTORES IT FOR YOU !!! Overseas Buyers are welcome. I can help arrange dependable, professional shipping anywhere in the World at a reasonable cost. Questions ? Call Skeet. (515) 573-5353 office or (515) 571-4691 cellphone Terms of Auction and Sale Overview: We reserve the right to end this listing at any time, should the vehicle no longer be available for sale. The following terms of sale apply: Bidding on this vehicle indicates you have read and agree to accept all Terms and Conditions outlined in this Description. Payment Terms: Please, if you do not intend to pay, please do not bid. All bidders with questionable Feedback need to call us or their bid might be canceled. The successful high bidder will submit a $1000.00 NON-REFUNDABLE payment deposit via PAYPAL within 24 hours of the close of the auction to secure the vehicle. Buyer agrees to pay remaining balance due plus a $98.00 Title and Document Fee within 5 (five) days of the close of the Auction. We are a Licensed and Bonded Iowa Auto Dealer. Iowa Buyers/Residents must pay all Title, Transfer, Registration Fees and Iowa Sales Tax and any other applicable fees and taxes. Non-Iowa Residents are responsible to pay all Fees and Taxes due in their own State or Nation. This vehicle is available for inspection by contacting B o w e r s B r o t h e r s M o t o r s in F o r t D o d g e , I o w a . The Buyer is responsible for all Insurance on the vehicle upon purchase. All financial transactions must be completed before the vehicle is released for pick-up or transport. Payment Methods: Bank to Bank Wire Transfer. AS IS - NO Warranty: Please note that all sales are binding and FINAL. NO REFUNDS. All vehicles are being sold AS-IS, WHERE-IS with NO warranty expressed, written or implied. Our description of the vehicle is based on our personal inspection and information provided by the previous owner or other individuals we feel are credible. Any descriptions or representations are for identification purposes only and are not to be construed as a warranty of any type. It is the responsibility of the buyer to have thoroughly inspected the vehicle and to have satisfied himself/herself as to the condition and value and to bid based upon that judgment. B o w e r s B r o t h e r s M o t o r s is a Licensed and Bonded Iowa Auto Dealer. The vehicles we sell are used vehicles and cannot be expected to be perfect. Minor defects and wear and tear may be present. The vehicle will be displayed and available for inspection at our facility during normal Business Hours or by special appointment Monday through Saturday. We try to represent it as accurately as possible to disclose any known defects associated with this vehicle. Seller assumes no responsibility for any repairs. We do not warranty anything that may or could happen after sale. Seller will not refund any Deposits, Partial Payments, Moneys or Fees, Storage Fees, Transport Fees, Loading Fees or Customs Fees collected for this vehicle. Seller agrees to store vehicle FREE for 14 ( fourteen) calendar days after Auction close while Buyer arranges payment, pick up or transport. After 14 ( fourteen) calendar days the vehicle will be placed in secure storage and the Buyer will be responsible for all storage charges until vehicle is picked up or transported.. Please carefully read the terms & conditions of the sale before bidding. Any inspections are to be completed before the close of the Auction, not afterward. Please, NO EXCEPTIONS. Winning this auction does not entitle you to come inspect the car and decide if you want to buy it, but OBLIGATES you to complete the purchase! Thanks so much for your bids, good luck.
Trim Two Tone