Packard 7 Passenger cars for sale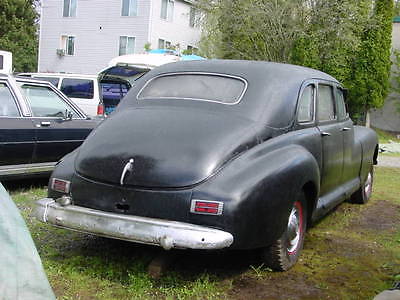 $4,000
Seattle, Washington
Category -
Mileage 99999
Posted Over 1 Month
Rare 1947 Packard Custom Super 7 passenger Sedan. One of the most expensive cars sold in the U.S in 1947. This Senior Packard, recognized as a true Classic by the Classic Car Club of America, and one of the last years recognized from the Classic era, 1929-1947. All systems need to be inspected, rebuilt or replaced. Body by Henney, fairly straight, surface rust. Needs front floorboards, front rockers, trunk area, and some smaller areas will need metal replacement, see pictures. Missing Dash, and wipers, interior is good for pattern, needs 4 wing windows, and drivers side window, ebay items. Most of the interior chrome is decent. Missing most of the exterior trim. 356 c.i., Custom 8 engine, condition is unknown. Original block, head, gear drive starter, and generator are there. Needs radiator, gas tank, water pump, oil pump, distributor, carb, intake, exhaust manifold, etc.. Built with big brakes, axels, springs, bearings, etc. Restore this Classic, or Build to suit. Ask any questions before bidding, Thanks!
Trim CUSTOM SUPER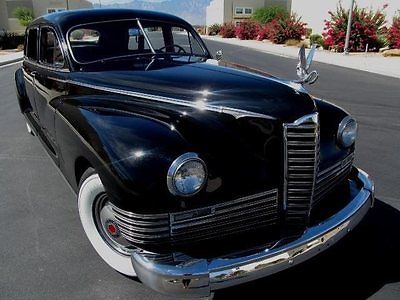 $22,500
Eastpointe, Michigan
Category -
Mileage 68000
Posted Over 1 Month
1947 PACKARD SUPER CLIPPER 8 SERIES TOURING SEDAN LIMO - FACTORY 356 L HEAD PACKARD 8 CYLINDER - INCREDIBLE LUXURY COLLECTOR. 1947 PACKARD SUPER CLIPPER SEDAN SUPER CLIPPER 8 SERIES TOURING SEDAN INCREDIBLE TIME CAPSULE AND AT THE TOP OF ITS CLASS IN 47!! FACTORY 356 STRAIGHT 8 L HEAD PACKARD ENGINE - RUNS LIKE A TOP LUXURIOUS AND ROOMY LONG WHEEL BASE MODEL - RARE HENNEY MOTORCAR COMPANY BUILT CHASSIS BEAUTIFUL INTERIOR - WIDE WHITES - ALL FACTORY COMPONENTS INTACT - VERY VERY RARE! This 1947 Packard Custom Super Clipper 8 Series Touring Sedan features a long wheelbase. This post-WW II classic was a top-of-the-market luxury vehicle. Blessed with the looks and styling of an elite limousine, it is mostly original and will make an excellent addition to any collection. You will look and feel like a Big Shot/Movie Star in this high-quality beauty which is one of the most rare Packards in the market place... Packard redesigned its entire line around the Clipper, even extending it to its top-of-the-line seven-passenger sedan and limousine. These models were built on an extended 148-inch wheelbase chassis by the Henney Motor Company, of Freeport, Illinois, Packard's long-serving builder of ambulances and limousines. Henney's reputation for craftsmanship was legendary, and these cars, essentially the first modern "stretch" limousines, were built with the same care and quality as any coachbuilt automobile, continuing the pre-war tradition begun by Rollston, LeBaron, and others. They were beautifully finished with the finest materials, including beautiful broadcloth upholstery, Mosstred carpeting, and Art Moderne wood-grain and Bakelite trim. NOTE: Production of the seven-passenger models was extraordinarily low, and survivors are prized by collectors, not least because they are among the final Packards recognized as Full Classics by the Classic Car Club of America Rare! 1947 Packard Super Clipper 8 Series Touring Sedan Series 2126. 165 hp, 356 cu. in. L-head inline eight-cylinder engine, three-speed manual transmission with Econo-Drive overdrive, independent front suspension with semi-elliptic rear springs, and four-wheel hydraulic brakes. Wheelbase: 148 Arizona Titled - VIN 21513826 Drives Beautifully Factory 356 Straight 8 L Head Engine Beautiful Touring Sedan Interior Is Beautiful and and classically original! All Original Dash And Components - Very Nicely Preserved New Wide Whites On Original Packard Wheels And Hubcaps All Glass In Good Shape History of the 1947 Packard Clipper Packard turned from building top-tier luxury cars prior to WWII to Rolls-Royce Merlin aircraft engines during the war, but picked up in 1946 with the Clipper series they had introduced in 1941. The returning 1946 Packard Clippers were almost identical to the prewar cars, being semi-streamlined two- and four-door sedans with fade-away fenders. The grille remained tall and narrow, only now with fewer and thicker bars. The Clipper could be ordered with a 245-cid straight-six engine that produced 105 hp, a 125-hp straight-eight engine that displaced 282 cid, or a 356-cid, 165-hp L-head eight. The latter engine was reserved for the luxury Super and Custom Super lines. The base Clipper rode on a 120-inch wheelbase, while the Super and Custom Super Clippers rode a 127-inch wheelbase. The Custom Super also came as a seven-passenger sedan and as a limo, both of which rode on 148-inch long wheelbases, which was one of the longest in the domestic industry. Prices ran from $1,700 for a six-cylinder car to $2,900 for a Custom Super Clipper sedan. The LWB versions were more than $1,000 above that price, still. The Clipper is an interesting line to follow, with some of the 1946 and 1947 cars at the very top of Packard quality. Because of low production numbers once they are found they are worthwhile additions to any collector's garage and sky rocketing in value!!! More pictures are available by request. Serious buyers only. Thanks and have a blessed day.
Trim LIMO