Oldsmobile cars for sale in Nova Scotia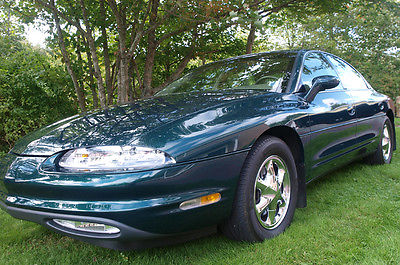 $12,000
Halifax, Nova Scotia
Category Sedan
Mileage 28000
Posted Over 1 Month
Showroom condition. One owner luxury sports sedan. Never driven in the winter. Kept in garage. Undercoated. Never smoked in; no pets. Everything works perfect - had it on a recent day trip - like new. V8 - works great. Have original window sticker and 1998 Olds brochure. This is a one of a kind vehicle. Please do not compare it to other '98 Aurora's. Apples and oranges. Mileage shown is miles; odometer shows 48600km. Asking $12,000 Canadian; currently $9100 US (subject to change; up to buyer to determine exact conversion). In case you're not familiar with the Aurora...The Aurora was highly regarded for its refined engine, excellent build quality, well-balanced ride, and structural integrity. The balance between a smooth ride and precise handling is exemplary, allowing the driver to enjoy some enthusiastic behind-the-wheel activity without upsetting the passengers.
Trim Luxury Sedan
$25,000
Chester, Nova Scotia
Category Sedan
Mileage 90000
Posted Over 1 Month
SELLING MY 1967 CUTLASS CONVERTIBLE-REDRED/BLK TOP-330CI ENGINE RUNS GREAT NO ISSUES-FULL BODY OFF FRAME RESTO DONE IN 2006-UPGRADED EXHAUST/MDS INGNITION LAST SUMMER-SITS ON CHIP FOOSE RIMS LOTS OF RUBBER ON TIRES- CAR IS VERY CLEAN AND RUNS GREAT MOTOR IS VERY STRONG!!!
Trim CHROME