Nissan cars for sale in Janesville, Wisconsin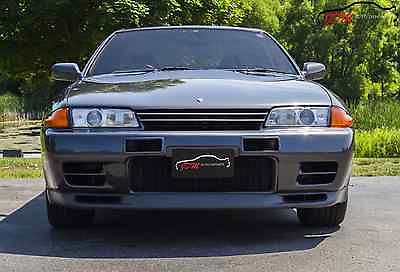 $25,900
Janesville, Wisconsin
Category -
Mileage -
Posted Over 1 Month
JDM Auto Imports LLC Janesville, WI Sales@JdmAutoImports.com 414-377-3767 In stock and available for immediate purchase. This 1989 Nissan Skyline R32 GT-R was 100% legally imported by JDM Auto Imports LLC, a Licensed and Bonded Automotive Dealer. The overall condition is excellent for its age, with only 99,000 Miles after 26 years. That is a mere 3,800 miles a year. This car is gorgeous and has been well taken care of and maintained. The timing belt was replaced at 80,786 miles, and the rear differential was changed at 81,614. The engine starts right up and effortlessly pulls through the gears without hesitation. It feels wonderful to drive and is very comfortable and responsive. When driving, you quickly realize this vehicle is special, and understand how it performed so well to become known as Godzilla. It has the original OEM GT-R wheels, which are in great shape, and is currently sitting on a matching set of Horace Horizon 225/50 ZR16 tires with like new tread. The interior is beautiful, and does not have the dreaded ugly bubbles on the dash board. The seats, trim, and carpet are very clean and in great shape. There are a couple minor fabric rips on the drivers right side seat, which is common. Comes with a nice set of vintage Nismo floor mats. Trunk is clean, no rust, and has the spare wheel and tire in place. The exterior is truly amazing for its age. The paint looks fantastic and shows minimal wear for the age and mileage. There a few small paint chips on the rear wing and a long scratch on the under/side of the passenger side skirt. The car is simply stunning and far above average condition after 26 years. The vehicle is equipped with an HKS Turbo Timer to allow proper cooling. It has a Kenwood RX-491CD audio head unit. We, at JDM Auto Imports LLC, do our best to only import exceptional condition classic vehicles, and this GT-R is no exception. Sold as is, no expressed or implied warranties.
Trim GT R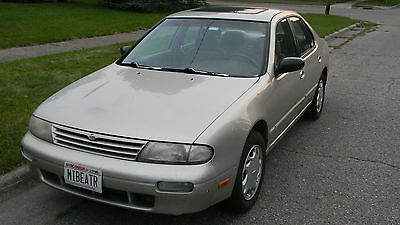 $1,200
Janesville, Wisconsin
Selling a 1997 Nissan Altima 2.4l 4 cyl automatic. Would be a fantastic winter car or to and from work car. Basically what Ive been using to for the last year. Has been an awesome car for me. Starts and drives great. Never an issue. The body and interior have seen better days. Previous owner was a smoker. Had to remove the headliner. Some burn holes in the seats, but no major tears or wires showing. The Good:26(ish) MPGExtremely reliableA/C blows really coldHeat is hot3 power windows workRadio works and rear speakers only.All safety equipment works(headlights, brakes, wipers, horn)3 months ago:New steel wheels, and tiresNew plugs, wires, cap, rotor and ignition coil6 months ago:New right lower control arm complete with new bushings and ball jointNew front rotors and padsNew rear shoes and drums12 months ago:New water pump, radiator, hoses, belt, thermostat New manifold back exhaust The Bad:The body, rust everywhere. no headlinersunroof seems to have been glued shutright rear window does not roll downfront speakers do not workpower antenna does not go all the way up or down.cannot unlock the car from the drivers sideFeel free to ask any questions you may have.. RE-LISTED due to a non-paying bidder...*****300.00 NON-refundabnle security deposit required.*****PLEASE make sure you want this car before hitting the But It Now button or submitting a Best Offer.. Thank you..
Trim GXE Sedan 4 Door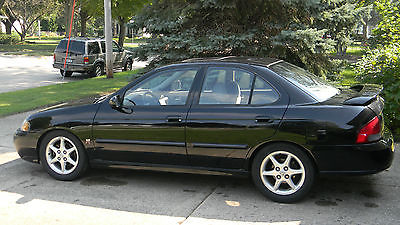 $2,800
Janesville, Wisconsin
Selling my daily driven Nissan Sentra. I have swapped in a 6 speed trans from a 2002 sentra Spec V with 125k. Trans is very smooth. new axles installed at time of trans swap. also has 2J power steering and crank pulleys installed. AEM cold air intake, megan lowering springs and new monroe struts. Interior is free from rips or tears, everything works as it should. Seats could use a shampoo. But are otherwise clean from burn holes, rips, tears. Cruise works great, AC blows cold, Heat works. power windows all work. Rear defroster works. Sunroof opens as it should. the body of course has some blemishes from being a daily driven car through Wisconsin winters. rock chips in the hood. Headlights are slightly oxidized. paint could use a buff. some swirls and light rub marks. Rims are in great shape, no clear coat peeling, tires have some life left. may make it through the winter. Please feel free to ask any questions yo may have. Thanks
Trim SE R Sedan 4 Door