Mitsubishi cars for sale in Maine
$37,600
Buxton, Maine
Category Class 5
Mileage 21603
Posted Over 1 Month
Supreme Van body size is 20 feet long, 8 feet wide, 8 feet tall, 2 rows of E-Track, power windows, heated mirrors, gross vehicle weight 17,995 lb, wind air deflector. Runs and drives like new. Has a Maine Rebuilt title, replaced left front corner of the cab and drivers door. $37600, 2074093029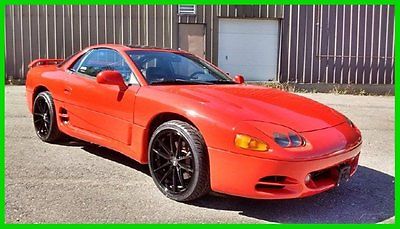 $11,999
Augusta, Maine
Category Hatchback
Mileage 82384
Posted Over 1 Month
1995 Mitsubishi 3000 GT VR-4 Vehicle Information VIN: JA3AN74K8SY003810 Stock: 03 Mileage: 82,384 Color: Red Trans: 6-SPEED MANUAL Engine: 3L V6 24V MPG: 18 City / 24 Highway Drivetrain: 4WD ? ? ? ? 1 of 31 ? View Large Images ? ? Description BEAUTIFUL 1995 MITSUBISHI 3000 GT VR-4 AWD TWIN TURBO 6-SPEED LOW MILESTHIS VEHICLE IS PRICED TO MOVE PLEASE CONTINUE TO READ EVERY WORD OF THIS LISTING BEFORE YOU BID I ENCOURAGE BIDDERS TO ASK QUESTIONS AND WITH THEIR AID I WILL DO MY BEST TO GET THEM THE ANSWERS AND OR PICTURES THEY NEED I WILL DO MY BEST TO REPRESENT THIS AUCTION TO THE BEST OF MY ABILITY I AM BY NO MEANS AN EXPERT ON THIS AUTOMOBILE. I AM SELLING THIS CAR LOCALLY AS WELL AND RESERVE THE RIGHT TO END THIS AUCTION AT ANYTIME. IF YOU ARE LOCAL I ENCOURAGE YOU TO COME LOOK AT IT IN PERSON I WILL MEET AND HELP WITH ANY SHIPPING THAT IS PAID FOR BY OUT OF STATE AND OVER SEAS BUYERS THE CAR MUST BE PAID FOR IN FULL AND PAYMENT CLEARED BEFORE IT LEAVES MY POSSESSION . I PURCHASED THIS CAR WITH THE INTENT OF RESALE FOR PROFIT, AND NO OTHER PLANS UP FOR SALE IS THIS LOADED LOADED 1995 MITSUBISHI 3000 GT VR-4 SUPER CARREADY TO TACKLE THE OPEN ROAD AND LOOK GREAT DOING IT. THIS BEAUTY HAS BEEN BABIED SINCE DAY ONE, ALWAYS ADULT OWNED, GARAGE KEPT, AND NEVER SEEN SNOW!!! STAND OUT FROM THE PACK AND TURN HEADS WITH LUXURY, SPEED, STYLE AND DEPENDABILITY ALL WRAPPED UP IN ONE AMAZING MACHINE!! THIS CAR WAS AND IS ALWAYS A REALLY COMFORTABLE RIDE, THAT WAS USED FOR LUXURY, AFFORDABLE, AND MOST IMPORTANTLY ENJOYABLE TRANSPORTATION. WHEN THE VEHICLE WAS INVOLVED IN A MILD FRONT END IMPACT, NO FRAME, NO AIR BAG DEPLOYMENT, NO STRUCTURAL DAMAGE,WE WENT AHEAD AND HAD EVERYTHING REPLACED, AND CERTIFIED THROUGH THE DEALER AND WAS ISSUED A DEALER AND STATE INSPECTED AND APPROVED TITLE. THIS CAR WILL BRING A SMILE TO YOUR FACE EVERY TIME YOU HEAR THAT ENGINE ROAR TO LIFE. WITH 320 HORSE POWER AND THE LOOKS TO MATCH YOU'LL TURN HEADS EVERYWHERE. ENJOY IT YOU EARNED IT!!! THIS BEAUTY WAS ALWAYS MAINTAINED, AND GARAGE KEPT, THE VEHICLE HAS MANY YEARS OF LIFE LEFT, BARELY BROKE IN AT JUST OVER 83K AN AMAZING RIDEVEHICLE BREAK DOWN EXTERIOR THE VEHICLE IS BEAUTIFUL INTERIOR THE INTERIOR IS BEAUTIFUL, ONE SMALL RIP ON THE DRIVERS SEAT SEAM SEE PICTURES THE CAR WAS VERY WELL CARED FOR AND USUALLY PASSENGER FREE. ELECTRICAL ALL POWER SEATS,WINDOWS, REMOVABLE GLASS ROOF, MIRRORS,CD, PLAYER, CAR IS LOADED. ALL LIGHTS TURN-SIGNALS, INDICATORS, WORK AS THEY SHOULD!!! THIS CAR IS REGISTERED AND INSPECTED, PASSED ALL EMISSIONS, NO CHECK ENGINE LIGHTSENGINE THE ENGINE IS SMOOTH, WELL MAINTAINED, AND CARED FOR, REGULAR SCHEDULED MAINTENANCE ALWAYS PREFORMED THE VEHICLE STARTS, IDLES, AND ACCELERATES, LIKE THE DAY IT WAS NEW. PLENTY OF PERFORMANCE IN THIS 320HP MONSTER!!! NO LEAKS, NO SMOKE, AND NO BURNING OIL!!! LIKE NEW!!! TRANSMISSION SHIFTS BEAUTIFULLY, SIX SPEED MANUAL TRANSMISSION, SYNCHRONIZED TO PERFECTION!! ALL IN ALL THIS IS AN AMAZING CAR. DRIVE IT ANYWHERE!!! SPECS:-All wheel anti-lock braking system-V6 Twin turbo, twin intercoolers-Six speed-Active aero dynamics (Motorized computer controlled front and rear spoiler)-320 Horsepower @ 6000 rpm, 315 lbs.-ft. Torque @ 2500 rpm (capable of up to 750hp with stage 1 - 4 kits)-Traction Control -Leather interior -Automatic climate control with magnetic clutch AC THE PICTURES WERE TAKEN WITH MY CELL PHONE THEY ARE NOT THE BEST QUALITY AND DO NOT DO IT JUSTICE. IT REALLY IS A BEAUTIFUL CAR YOU WONT SEE ANOTHER ONE LIKE IT ONCE AGAIN IF YOU HAVE ANY QUESTIONS PLEASE ASK . Video Options and Standard Features Basic Information VIN Number: JA3AN74K8SY003810 Stock Number: 03 Model Year: 1995 Make: Mitsubishi Model: 3000 GT Style Name: All-Wheel Drive Coupe VR-4 (STD Is Estimated) Vehicle Trim: VR-4 Body Type: Coupe Vehicle Type: Coupe Exterior Color: Red Interior Color: Black Engine Engine Description: 3L V6 24V Fuel Type: Gas Fuel Induction: MPI Valves Per Cylinder: 4 Aspiration: Turbocharged Compressor: Intercooled Turbo MPG Manual City: 18 MPG Manual Highway: 24 MPG Automatic City: 18 MPG Automatic Highway: 24 DriveTrain Transmission: 6-SPEED MANUAL Drive Train Type: 4WD 4WD Type : Full-Time Driven Wheels: Four-Wheel Roof and Glass Privacy Glass: Light In Car Entertainment Speakers: 8 Features Aux Engine Cooler: Regular Bumpers: Body-Colored Dimensions Length: 179.7 Width: 72.4 Height: 49.3 Wheelbase: 97.2 Contact Knuckle Busters Speed Shop 16 Edison Dr. Augusta Maine 04330 View Map Ask for:Travis Vigue Primary Phone:(207) 629-8275 Contact: ?Contact Us Hours Mon-Fri:10:00 AM-05:00 PM EST Sat, Sun:Closed ? Apply Now Secure Credit Application Applying for a vehicle loan online is one of the quickest and easiest application methods. Our secure application is easy to complete, all you need are a few personal and employment details. ?Credit Application ?Directions to Dealer ?Contact Us Terms Placing a Bid: Your bid constitutes a legally binding contract to purchase this vehicle. Please do not bid if you're not seriously interested or financially able to purchase this vehicle. Please read eBay's User AgreementKnuckle Busters Speed Shop reserves the right to, Obtain and verify the registered information of all users who bid on this auction. Cancel any and all bids at our discretion, or end the auction early if necessary.Bidders Age: You must be 18 years of age or older to Bid. Special eBay Bid Retraction Rules: Please read eBay's "Retracting a Bid" If you place a bid before the last 12-hour period of the auction: You may retract that bid before that last 12-hour period but only for exceptional circumstances. You will not be allowed to retract that bid during the last 12-hour period of the auction. If you place a bid during the last 12-hour period of the auction: You will be allowed to retract the bid for exceptional circumstances but only if you do so within one hour after placing the bid.Funds & Financing: For help in arranging for a Pre-Approved loan or for any questions please e-mail or phone Travis at(207) 629-8275 prior to bidding. Buyers Inspection: Knuckle Busters Speed Shop has done our best to disclose all information known about this vehicle for auction. Knuckle Busters Speed Shop welcomes a buyers inspection. If you plan to have a buyers inspection, please make sure you inspect the vehicle prior to the auction ending. Inspection fees if any are Buyers responsibility. Representations and Warranties made by seller: This vehicle is being sold "as is". Manufacturer's warranties may still apply. Extended warranty may be available, e-mail or phone Travis at (207) 629-8275 for details. No representations or warranties are made by seller, nor are any representations or warranties relied upon by bidders in making bids. Taxes and Registration fees: Out of state buyers are responsible for all state, county, city taxes and fees, as well as title service fees in the state that the vehicle will be registered. All taxes and fees must be paid in full in order for vehicle to be titled and registered. Title Information: Vehicles titles may be held by banks or lenders as collateral for loans. In many cases there is a delay in receiving the original instruments up to 21 days from the time we pay a vehicle off. While we usually have all titles in our possession at closing, there are occasions where we may be waiting for them to arrive. If payment is made by cashier's or personal checks we will hold all titles for 10 days or until funds have cleared. Shipping & Delivery: All shipping charges are buyer's responsibility. Knuckle Busters Speed Shop will help with shipping arrangements but will not be responsible in any way for claims arising from shipping damage!Licensed Carriers are generally insured for $3,000,000.00. We assume no responsibility for damages incurred after the vehicle leaves our showroom. All shipping arrangements are provided by Knuckle Busters Speed Shop as a courtesy. We are not affiliated with any carrier. Any claims or other communication regarding shipment of vehicles will be between you and the shipper, not with Knuckle Busters Speed Shop. The amount of time it takes for delivery is dependent on the carrier, but is generally 7-14 days from the date the vehicle is picked up from our facility until it is delivered to your destination. Verify with the shipper for an Estimate Time of Arrival to be sure. Finalizing your Purchase: Knuckle Busters Speed Shop will contact the successful high bidder by e-mail after the auction closes. Successful high bidder MUST communicate with Travis at Knuckle Busters Speed Shop by e-mail or phone(207) 629-8275 within 24 hours of the auction ending to make arrangements to complete their transaction. If we cannot confirm your intention to buy or the sale is not completed within 5 days, we reserve the right to relist this vehicle or sell to any other qualified buyer. In order to secure bid on vehicle, Successful bidder (BUYER) must within 24 hours of bid closing send to Seller a Deposit in the amount of 10% by major credit card, cash in person or bank certified funds. Within 72 hours of bid closing, Buyer must send balance of funds by bank wire transfer, cash in person, bank certified funds to Seller. At time of sending initial deposit, Buyer MUST fax copy of their State issued valid Driver License. Furthermore, before said vehicle is released for shipment to Buyer, all other Sale related and title related paperwork must be signed and returned complete to Seller. Copyright © 2015 Auction123 - All rights reserved. - Disclaimer +- Auction123 (a service and listing/software company) and the Seller has done his/her best to disclose the equipment/condition of this vehicle/purchase. However, Auction123 disclaims any warranty as to the accuracy or to the working condition of the vehicle/equipment listed. The purchaser or prospective purchaser should verify with the Seller the accuracy of all the information listed within this ad. Selling a Vehicle? Create Professional Listings Fast and Easy. Click Here!
Trim VR 4 Coupe 2 Door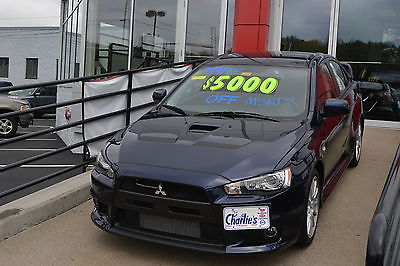 $37,805
Augusta, Maine
Category Sedan
Mileage 50
Posted Over 1 Month
The GSR delivers the essence of everything we've learned on the racetrack, packed with powerful performance at an affordable price.
Trim Evolution GSR Sedan 4 Door