Land Rover cars for sale in Rhode Island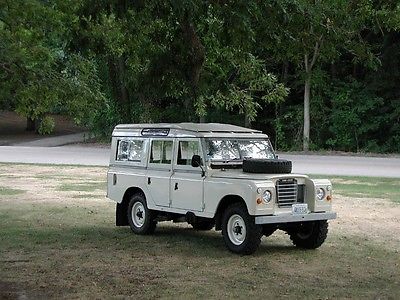 $20,000
East Greenwich, Rhode Island
Category -
Mileage 90000
Posted Over 1 Month


Capecodchip Store Increase traffic to your listing with Auctiva's FREE Scrolling Gallery.For sale: 1978 Land Rover 109 Safari Right Hand Drive. Very sound vehicle. Cosmetically very nice. Runs very well. Not a show-winner, but it was a few years back. Little used in the past 5 years. Clear title. No issues, other than the window felt/runners. which show their age. Anyway, rather than write a lengthy description...I'll just say this: If you are specifically seeking a 12-seater Land Rover Safari - and you consider the RHD model a "plus" (as I always have) - then I highly recommend that you consider inspecting this one in-person. I do not think you will find a better one for the price. If you wish to inspect my Land Rover, please call or email me, to arrange a mutually convenient time. I can be reached through the eBay message system, or by phone at 401.595.2631 The Land Rover is located in 02818, 5 minutes off I-95; about one hour south of Boston, and 2 1/2 hours north of NYC. Any questions, please do not hesitate to ask. If you would like a few additional photographs, I will supply them...but, as all prospective buyers of vintage Land Rovers know (or should be made aware)...the only sensible way to buy one, is after doing a thorough in-person inspection. Thank you for considering my Safari.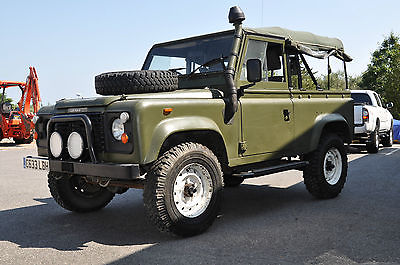 $17,000
Westerly, Rhode Island
Category -
Mileage 170000
Posted Over 1 Month
Up for sale is my 1986 Land Rover Defender 90 Ex MOD. 2.5 NA Diesel Engine. Vehicle was originally hard top and converted to a soft top. I originally purchased this as a fun summertime car. I ended up converting the top and just driving it around. I had hopes to do a tear down with my son some winter and redo from ground up but external factors wont let that happen right now so its up for sale. Its such a fun car and everywhere I go people ask about it. I have the rear seats, second spare tire and rear door mount, hard top, and even new cross member for the rear. The vehicle has some minor rust under front doors which is very common. I already repaired the rear door so that's all set. The frame is solid and only has minor surface rust which again is common. The diesel runs smooth and starts and runs perfectly. This is an awesome summertime car. My son loves it and hates to see it go.
$37,900
Cranston, Rhode Island
Category -
Mileage 26598
Posted Over 1 Month
2012 Land Rover Evoque Pure Premium 26598 miles Original owner , no accidents , dealer serviced with records. Spare set of tires included, presently has winter tires on vehicle which are a few thousand miles from new. Original tires are 75% good. No disappointments.
Trim black