Jeep Cj7 cars for sale in Florida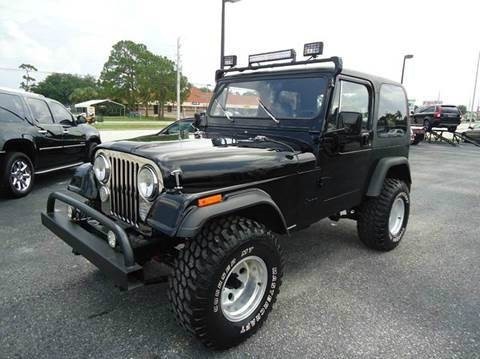 Request Price
Englewood, Florida
Wow. Look At This Super Sharp. 1985 CJ-7 Jeep. Jeep Has A Custom 351 Windsor V8. Jeep Has Been Restored And Gone Thru. Solid Inside And Out. Manual Transmission. Ice Cold Air. Fast And Fun. You Have To Check This One Out. Call For More Information 1-941-473-2277 Or Visit Our Website To View Pictures or Information... WWW.PCTCARS2.COM !!!!!!!!!!!!!!!!!!!!!!!!!!!!!!!!!!...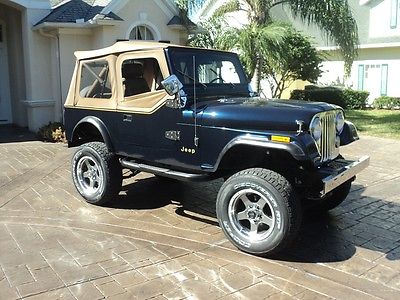 $13,700
Daytona Beach, Florida
1985 JEEP CJ7 4.2 SIX CYLINDER 5 SPEED MANUAL TRANSMISSION AM/FM/CD PLAYER (IN CONSOLE) FIBERGLASS BODY / FRAME IN GREAT CONDITION NEW WHEELS & TIRES TOP IN VERY GOOD CONDITION ALL GAUGES & LIGHTS WORK RUNS, DRIVES, & SHIFTS GOOD CALL 740-572-0173 WITH ANY QUESTIONS
Trim Base Sport Utility 2 Door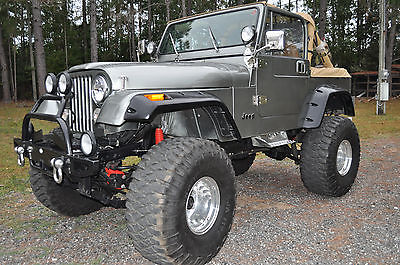 $16,500
Bunnell, Florida
HELLO,THIS IS A BEAUTYFUL JEEP CJ7 ORIGINAL 258 ENGINE,5 SPEED TRANSMISSION,DANA 44 REAR DIFERENTIAL,4X4.I HAD THIS JEEP FOR 13 YEARS,GARAGE KEPT,THIS JEEP IS 6 YEARS FRAME OFF RESTORATION,AND HAVE ALL NEW,THE PAINT LOCKS GOOD BUT NO PERFECT HAVE SOME INPERFECTIONS SEE THE PICS,NEW STAYNLES STEEL BRAKE LINES,NEW CALIPERS,PADS,BEARINGS AND SEALS,ROTORS,BRUMS AND ALL HARDWARE,SHOES,NEW ALL REAR SEALS AND BEARINGS,NEW ONE PIECE REAR AXELS,NEW MASTER CYL AND POWER BOOSTER,NEW EMERGENCY BRAKE WIRES,NEW PURGE VALVE.NEW STAYLES STEEL CALIPERS LINES.NEW 4" MILITARY STYLE HEAVE DUTY SUSPENSSION LIFT,3"BODY LIFT,2.1/2" HEAVY DUTY SHACKLES KIT,NEW SKYJACKER HEAVY DUTY DOUBLE STEERING STABILIZER SHOCKS WITH CUSTOM OLIVE GREEN PAINT,NEW 4 SKYJACKER HEAVY DUTY SHOCKS WITH CUSTOM OLIVE GREEN PAINT,NEW 4" SWAY BARS LINKS,NEW DROPPED PITMAN ARM.NEW TRANSFER CASE LOWERNG KIT,NEW ALL U BOLTS AND SUSPENSSION BUSHINGS ETC,NEW MOTOR MOUNTS AND TRANSMISSION,NEW CLUTCH LINKAGE KIT,NEW SWAY BAR BUSHINGS KIT,NEW TIE ROD ENDS AN BARS,NEW HIGH PERFORMANCE AGR STEERING BOX AND PUMP,NEW HD STEERING BOX BRACE,NEW BOLT JOINTS,NEW U JOINTS FRONT AND REAR,NEW INTERIOR,GAUGES,SEEPEDOMETER,HEATHER CONTROLS,ALL SWICHES,NEW STAYLES STEEL BATERY TRAY,NEW BATERY,NEW PAINLESS WIRING FACTORY PRETERMINATED REPLACEMENT HARNESS ASSEMBLY,NEW MAYORY ELECTRONIC DISTRIBUITOR AND COIL,NEW STARTER AND SELENOIDE,NEWWW ALTERNATOR,NEW ALUMINUM VALVE COVER,NEW WEBER DUO CARBURATOR,NEW WATER PUMP AND THERMOSTAD,NEW TIMING CHANE KIT,NEW OIL PUMP,NEW ALL BELTS AND RADIATOR HOSES,NEW 3 CORE RADIATOR,NEW RADIATOR SHROUD,NEW HEATER CORE.NEW BODY ARMOR BULL BAR FRONT BUMPER WITH HEAVY DUTY WINCH MOUNTIG PLATE AND FOUR FOG AND DRIVING LIGHTS,HEAVY DUTY REAR TRAILER 2" HITCH AND CUSTOM TAIL GATE GERRY CAN BRACKET.TWO NEW GERRY CANS WITH CUSTOM CAMO PAINT.CRYSTAL EYES TAIL LAMPS ASSEMBLIES,CUSTOM HEAD LAMPS,NEW TURN SIGNAL LAMPS,ST STEEL WINSHIELD LIGHT MOUNTING BRAKETS,COMPLETE STAYLES ST HOOD SET,STAYLES ST HOOD VENT,ST STEEL WINDSHIELD HINGE SET,ST STEEL HOOD LATCH SET,ST STEEL WINDSHIELD HOLD DOWN SET ST STEEL SUDE STEP INLAY,ST STEEL SPARE TIRE STOPPER,ST STEEL GAUGE COVER,ST STEEL STEERING COLUMN COVER,ST STEEL WINDSHIELD KNOBS,ST STEEL WINDSHIELD BRAKET SET,ST STEEL GRAB BAR,ST STEEL REAR TAIL GATE HINGE,ST STEEL DOOR BRAKET SET,ST STEEL DOOR HINGE SET,ST STEEL MIRRORS SET,ST STEEL GLOVE BOX DOOR,ST STEEL FUEL BEZEL,ORIGINAL TACH AND CLOCK,,OVER SIZE GAS TANK WITH DIMOND PLATE COVER,TUFFY STEREO SECURITY CENTER CONSOLE WITH CD PLAYER,REAR SPEAKERS BOXES AND HI POWER SPEAKERS,BEST TOP SUPER TOP,BIKINY TOP AND TONNO COVER,ROOL BAR COVER AND CURTAIN.NEW JEEP LOGO FLOOR MATS.NEW 12" WHEELS AND MICKEY THOMPSON BAJA MTZ 38X15.50.R 15 LT RADIAL TIRES.OVER SIZE POCKET STYLE BUSCHWACKER FENDER FLARES.AND MUCH MORE.TWO BRAND NEW FRONT SEATS THE JEEP COMES WITH COMPLETE AC UNIT JUST NEED TO BE HOOK UP. ALSO COMES WITH ALL ORIGINAL BRACKETS FOR:HOOD,DOORS,TAIL GATE AND,WINDSHIELD. ALL ORIGINAL WIRE HARNESS,CARBURETOR,IGNITION DISTRIBUTOR,AIR FILTER COVER ECT. IN CASE YOU WANT TO PUT IT BACK TO ORIGINAL PERFECT FLOORS AND SOLID FRAME HARD TO FIND NO RUST.JUST SOME LITTLE 1/4" BUBBLES IN THE PAINT UNTHER WINSHIELD FRAME ON TOP OF THE BODY TUB,IT COME WITH ONE QUART OF GALON PAINT FOR TOUCH UP. JEEP COMES WITH 8 BOXES 3'X2'X1' FULL OF BRAKETS ACCESORIES AND PARTS FOR CJS.TO MANY TO LIST.(NEW AND USED PARTS) THIS JEEP RUNS VERY GOOD,TRANSMISSION IS VERY GOOD AND DIFERENTIALS TOO.NEVER BEN OFF ROAD, JUST USED FOR CAR SHOWS. WHAT YOU SEE IN THE PICTURES IS WHAT YOU GET,ANY QUESTIONS PLEASE CALL AT 3862632389 BEFORE YOU BUY.
Trim Base Sport Utility 2 Door