International Harvester cars for sale in South Dakota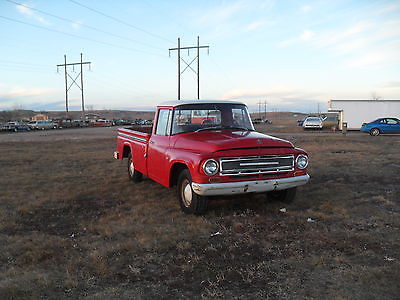 $7,250
Rapid City, South Dakota
Category -
Mileage 999999
Posted Over 1 Month
This is the most rust-free International pickup I've seen. There is a small area on the lower tailgate that has some rust holes, but is very repairable. There is shiny red paint under the floor mat, which is an area that is rusty on the majority of these years of International trucks. The air vent ducts in the cowl and firewall area are prone to rust, these are very nice. The truck is very complete and original. I don't see any signs of it ever being repainted and believe it has all original paint. The engine is a 266 cubic inch V-8. It is an 1100 series which means it is a heavy duty ½ ton. It has leaf spring suspension on the front, factory overloads on the rear, 15" heavy duty split rims, and an International limited slip differential. It has very few dents. The header panel above the grill has dents across it, but could be easily repaired. If the header panel was repaired and care taken to match the paint, the truck would be really presentable. It has set long enough to need the usual things worked over, like brakes gone through and the fuel system cleaned. We oiled the cylinders and fired the engine briefly by spraying fuel in the carburetor. We hope to have the tank out and steam cleaned in the next few days and the carburetor rebuilt to make it runnable. We will be adding more pictures as soon as possible. ALL SALES ARE FINAL. PLEASE ask any and all questions before the end of the auction. You can send a message through Ebay or give us a call at 605-348-4926. SHIPPING IS BUYER'S RESPONSIBILITY. WE WILL STORE THIS ITEM FOR UP TO 90 DAYS AT NO CHARGE. We have this vehicle listed other places, and reserve the right to end the listing early. Check out my other items!
Trim pickup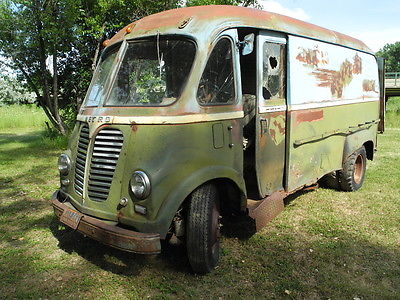 $1,500
Spearfish, South Dakota
Category -
Mileage -
Posted Over 1 Month
Selling some of our Family collection to fund some other projects and restorations ! Please read title information. Van has was purchased as a parts vehicle and does not have a title. will come with Bill of sale only and is being sold for parts/project only. for sale or best offer is this old Metro Delivery Van. We purchased this with the intent of fixing the body but have not gotten around to doing so due to other obligations and things needing to be done. We have been using it as storage. Van came from a local salvage yard that was storing this in their " keeper " area. We believe this is a 1951 - 1952 model but we are not sure on the exact year it was made. It is an LM-150 model. It is also the larger Dually version. This would be a great project or parts truck for someone who is skilled at repairing sheet metal and tin. You can see how over the years the bottom of the body has gotten crunched from a forklift so it will need to have some repairs along bottom of body and also some dent repair. It appears to have been a Culligan water truck at one point because if you look at the writing on the body you can read what appears to say " culligan " on the RH side of the body. The sliding doors also need repair and the rear RH door is pretty rough and needs hinge repair. If your skilled at body work or know someone who is this would make an awesome truck to repair or you could use it as a parts truck for another metro build. Pictures tell a thousand words. If you have any other questions feel free to email me at anytime and we will get back to you quickly. Please view all of the photos that we have included. There are also many other photos inserted into the description if you scroll down to the bottom. If you have any questions or need additional information on this Metro Van please email us and we will get back to you within 24 hours. Van is being sold as is where is with no warranty expressed or implied of anykind. Van will come with a bill of sale only and no other paperwork. Payment terms: We would prefer not to use paypal for payment on this truck. If you have no other way to pay except paypal we will accept it but prefer not to pay the PP fees if possible. Cashiers check or cash would be preferred. We are allowing 10 days for payment so that you have plenty of time to get the check in the mail. Check must clear our bank before we will release possession of the truck. We can store this truck on our property for up to 60 days and maybe a bit longer than 60 days to give you plenty of time to arrange transportation . If you need longer we can probably arrange that as well but would prefer that it is picked up in 60 days or less. We are trusted ebay sellers with a long history of buying and selling things that we collect and restore. Feel confident in bidding that you are dealing with honest people !
Trim Van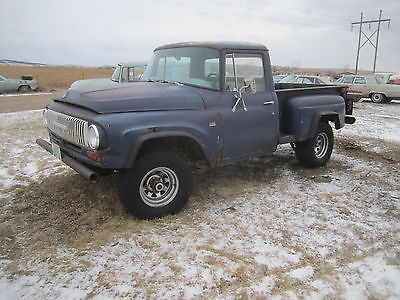 $3,250
Rapid City, South Dakota
Category -
Mileage 999999
Posted Over 1 Month
This International is a model 1100A, which is a heavy duty ½ ton. It has a very nice running 266 cubic inch International V-8 and a cast iron Borg Warner 3 speed automatic transmission. Both differentials are a 3.73 ratio, both with limited slip. The rear has a 4.5 inch bolt pattern wheel and the front has a 5.5 inch pattern. It has power steering. The truck hasn't been on the road for about 10 years, so it will need some basic maintenance including cleaning the fuel system. The header panel and front fenders are rusted to the point they need replaced. We have some very nice sheet metal for these years of Internationals. This auction is for the truck as pictured. We would be glad to price any parts in addition to the auction. ALL SALES ARE FINAL. PLEASE ask any and all questions before the end of the auction. You can send a message through Ebay or give us a call at 605-348-4926. SHIPPING IS BUYER'S RESPONSIBILITY. WE WILL STORE THIS ITEM FOR UP TO 90 DAYS AT NO CHARGE. We have this vehicle listed other places, and reserve the right to end the listing early. Check out my other items! Please visit our website: www.mooresvintagemopars.com
Trim short Box Pickup