Ford Other Pickups custom cars for sale in Ohio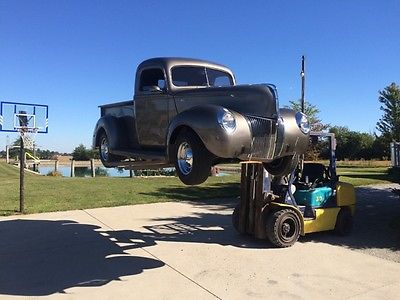 $29,000
New Washington, Ohio
Category -
Mileage 6773
Posted Over 1 Month
I have a gorgeous 1940 Ford pickup truck. I purchased this truck from the widow of the builder of this truck. His last request was to take one final ride in his truck , so the family hauled his coffin to the cemetery in his beautiful creation. This truck has 6773 miles since being built. It is all Henry Ford steel with the exception of the rear fenders. Running boards are steel and so are front fenders, bed and cab. This truck has a mild 302 ford engine with a ford 3 speed automatic transmission, Lokar shifter, ford rear end. Choke is hooked up and works as it should. It does not have heat or A/C. The ole truck has power windows, power rack n pinion steering, tilt wheel, front power disc brakes, door poppers and has been chopped a few inches. It has a tach and all gauges work including, oil pressure, voltage, water temp, 4 way flashers ,speedometer, fuel gauge, turn signals, hi/low beam and even the hi beam indicator lights up. The emergency brake works. Has an am/fm cd player that sounds awesome. It does have a new cable operated wiper motor installed, but it is not wired up yet. The motor is mounted and the cable is hooked up but it will need the switch and wires ran to the motor. Horn does work also. The wood in the bed is oak with stainless strips. Tailgate is awesome also. The underside was all blasted and painted when it was built so it looks like a truck with 6000 miles. Very clean and done well. Brand new 17" torque thrust wheels and tires just put on today 10-1-15. I do have the steelies available if they do not sell first. I have them listed on craigslist. I don't know what else to say other than this is one very nice 1940 Ford truck! I have driven it over 100 miles since I got it and it will cruise on interstate at 70 mph at 2000 rpms , and handles like a new truck.
Trim custom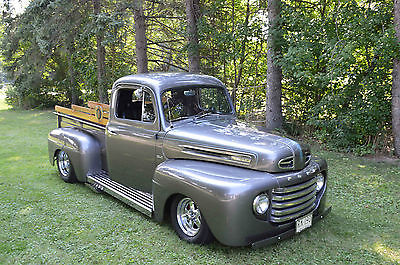 $31,999
Columbia Station, Ohio
Category -
Mileage 8807
Posted Over 1 Month
1948 Ford F-1 The pick-up truck bed is all hand pick cherry wood. The bed and most of the truck is all stainless steel bolts. The paint is gray with metal flake. It is show quality but there are a few small chips. The pictures do not do the paint justice. The truck sits on 4 air bags suspension and all pictures show it all the way down. The rear suspension is four link and the front is rack and pinion power. The engine is a mid-80's 351 Windsor with Edelbrock 6025 Aluminum heads, Air gap manifold, Holley 680 street avenger and stainless steel headers. The transmission is a Ford AOD with manual overdrive. At 57 miles per hour it kicks in to over drive and turns 1100 RPM. The truck runs great and drive great too. Brakes are disc in the front and drum in the rear. The frame is original 1948 but there is a latter sub frame from the firewall to the read end that is welded to the original frame. The exhaust is custom made from 304 stainless and very loud but legal. The odometer show 8807 but it's the reading since the restore but is not the total miles. There is air conditioning but it is not charged. The truck is a major head turner. I have won over 15 shows in the past 3 years. The largest being over 2,100 vehicles. When I go to a cruse-in the truck gets a lot of attention. There is no warranty. . The truck is "AS IS". I have tried to list all the information truthfully but could be wrong. I cannot tell you how many endless hours I have in to this truck. I reserve the right to end this auction if I sell the truck locally. The reason I am selling this truck is to do something new. The title is a clean Ohio title and please make sure of your locale state rules before buying the truck. Please call with any question and I encourage you to see the truck before buying. Please call contact me for my phone number. I will accept bank check or money transfer. If you contact me I will give you my cell phone number.
Trim Custom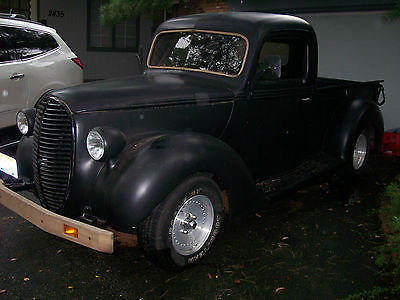 $14,800
Youngstown, Ohio
Category -
Mileage 1250
Posted Over 1 Month
I AM LISTING THIS 1938 FORD PICKUP FOR MY BOSS,S 80+YEAR OLD DAD. HE STARTED BUILDING THIS TRUCK IN 1976,SO HE HAS OWNED IT NEARLY 40 YEARS. MY BOSS WOULD LIKE ME TO TAKE CARE OF ALL THE DETAILS DUE TO HIS DADS AGE AND HEALTH. I WORK FOR A CHEVROLET DEALERSHIP AND WE CAN ARRANGE FOR THE TRUCK TO BE PICKED UP AT THE STORE IN AURORA ,OHIO BY CLEVELAND. I TOOK THESE PICS AT HIS HOME ON A RAINY DAY SO PLEASE FORGIVE PICTURE QUALITY,HE NO LONGER CAN DRIVE IT NOR HAS A GARAGE SPACE FOR IT,SO ITS IN THE DRIVEWAY COVERED WITH 2 CARCOVERS,ONE CUSTOM MADE FOR EXACT FIT AND THE OTHER FOR EXTRA PROTECTION FROM THE ELEMENTS. I AM LISTING ALL THE DETAILS HE GAVE ME FROM BUILDING IT HIMSELF,SOME SPECIFICS HE DOES NOT KNOW AND WILL BE NOTED,MEANING I CANNOT AWNSER THAT QUESTION FOR YOU, AND OTHER REASONS ARE HE LIVES 1 1/2 HOURS FROM ME AND MY WORK SCHEDULE WONT ALLOW ME TIME TO KEEP RUNNING BACK CHECKING ON MINOR DETAILS.LOOK AT THE PICS AND LIST IM PUTTING IN THE AD AND BID ACCORDINGLY PLEASE.ITS A NICE TRUCK HE DID HIMSELF. * ENGINE IS A REBUILT CHEVY 350, DO NOT KNOW YEAR,HP,ETC.RUNS GREAT *1979 CORVETTE COMPLETE REAREND W/DISC BRAKES, RATIO? IM GUESSING STOCK FROM THE 79, DRIVEN ON THE STREET NOT RACED. * 4 SPEED MUNCIE TRANSMISSION, YEAR??? *COMPLETE FRONT SUBFRAME FROM 1968 NOVA, DISC BRAKES. *RACK & PINION STEERING FROM 1974 AUDI. *TILT TELE COLUMN FROM 74 CADILLAC. *72 CADDY TAILLIGHTS RECESSED IN BED UNDER TAILGATE. *CADDY DIMMER SWITCH/TIMER FOR HEADLIGHTS. *INTERIOR LIGHTS TURN ON WHEN DOOR HANDLE ACTIVATED.. *SOLID TEAK WOOD CUSTOM DASH & OVERHEAD CONSOLE. *AM/FM/CB RADIO W/POWER ANTENNA & 4 SPEAKERS. *SOLID TEAK WOOD WINDSHIELD FRAME. *SOLID TEAK FRONT BUMPER W/BUILT IN PARK/TURN SIGNAL LIGHTS. *CUSTOM MADE SIDE DOOR MIRRORS. *POWER WINDOWS,TINTED GLASS,10 STEWART WARNER GAUGES. *RECARO SEATS,INTERIOR COMPLETELY CARPETED INCLUDING HEADLINER. *225/70R/15 GOODYEARS MOUNTED ON ALUMINUM CENTERLINE RIMS. *STAINLESS STEEL GASTANK.ALL BODY MODS LEADED IN,"NO BONDO". THIS TRUCK HAS BEEN DRIVEN LESS THAN 1300 MILES SINCE COMPLETED,IT WAS RED WHEN STARTED PROJECT,BUT FINISHED IN HOTROD BLACK PRIMER SO YOU PICK THE COLOR YOU WANT. IT RUNS AND DRIVES BUT HAS BEEN SITTING FOR AWHILE SO YOU MAY WANT TO FRESHEN UP THE FLUIDS,ETC BEFORE DRIVING IT A LONG DISTANCE.IT WAS BUILT TO ENJOY DRIVING IT NOT A TRAILER QUEEN.ALL WORK WAS TOP QUALITY DURING BUILD AND THE MONEY AND HOURS SPENT WERE TOO MUCH TO LIST.NOW IN HIS 80,S HE JUST CANT DRIVE IT ANYMORE SO THIS IS THE FIRST TIME BEING OFFERED FOR SALE IN NEARLY 40 YEARS.YOU MAY INSPECT IT BY APPOINTMENT ONLY DURING THE AUCTION,BEING SOLD AS-IS NO WARRANTY,ALL BIDS ARE FINAL,ZERO AND NEGATIVE FEEDBACK BIDDERS MUST CONTACT ME FIRST VIA EBAY OR I RESERVE THE RIGHT TO CANCEL/BLOCK YOUR BIDS.ALL SHIPPING,TITLE FEES,TAXES,INSPECTIONS,AND/OR ANY OTHER EXPENSE IS THE RESPONSABILITY OF THE BUYER.I AM LISTING 24 PICS,I WILL DO MY BEST TO AWNSER ANY QUESTIONS DURING THE AUCTION,USUALLY IN THE EVENINGS,IF I LISTED I DONT KNOW THAT MEANS HE DID NOT KNOW SO IT IS WHAT IT IS/AS LISTED. IF YOU ARE INTERESTED MAKE A FAIR 5 DIGIT OFFER AND WE CAN TALK,IF THE RIGHT OFFER IS MADE I WILL END THE AUCTION UPON RECIEPT OF NON REFUNDABLE DEPOSIT OR CASH IN PERSON.. THANK YOU,AND GOOD LUCK BIDDING.
Trim CUSTOM