Ford Other Pickups cars for sale in Ponchatoula, Louisiana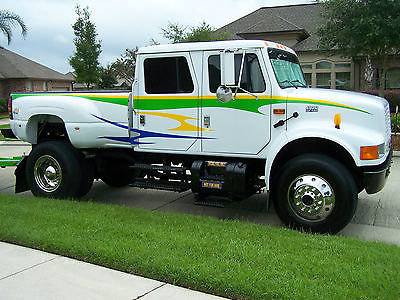 $18,950
Ponchatoula, Louisiana
Category -
Mileage 314k
Posted Over 1 Month
Built with the spirit of an International CXT or Ford F-650, this truck will pull anything you have. Truck has no concerns and is 100% turn key ready to go. I used the truck to pull my powerboat only but I have downsized on toys and no longer need it. I am paying to store it indoors and it is time to sell it. The bed is from a 2006 Chevy 3500 Dually and the rest of the truck is from a 1994 International 4900. It has the DT 466 engine which does not smoke nor miss. I changed any parts that needed to be as they came up. The interior is about 8 months young and is without any rips or tears. Dashboard is brand new and there is LED lighting above. JVC Stereo installed. 4 speed manual with a granny gear. Air suspension, air brakes and Goodyear tires with 80% tread left.Graphics or vinyl if you wish to change them. $400 ceramic tint on windows.I kept the original instrument cluster which shows 314k on it. All electrical on interior, exterior and for towing work correctly.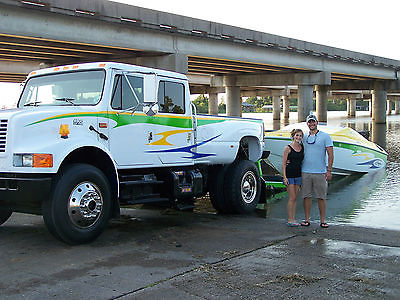 $21,500
Ponchatoula, Louisiana
Category -
Mileage 314000
Posted Over 1 Month
If you want that big rig/monster truck look for a fraction of the price, then I own your next vehicle. My powerboat sold and it was only used for that, so I am going to part with it. There are no issues with the truck, I maintained with an open checkbook and it was stored indoors as you can tell. The truck is built from a 1993 International 4900 with a 2006 Chevy 3500 Dually bed. I promise it will cause a traffic jam. The interior is 6 months old without any wear, tear or stretch mark spots. All electrical works, does not smoke or miss. Two 50 Gallon diesel tanks. Air suspension in rear and leaf spring suspension in the front. No dents or scratches on the paint. Graphics are vinyl so if you wish to remove them you can. Air Brakes. All fluids and filters are new. I had the truck checked out by International Trucks of Acadiana in Jefferson, La. and they gave it a clean bill of health, I have the receipt. A/C-Heat with standard locks and windows. Tint is the top of the line "ceramic tint". It is a manual four speed with the granny gear. I encourage you to look of the Dt466 engine online. It has the nickname of the "million mile motor" and there are more Dt466's on the road than any other engine. This truck is a 2 wheel drive vehicle. We left the 4X4 sticker on the bed because we thought it looked cool.
Trim 4 door