Ferrari cars for sale in Alexandria, Virginia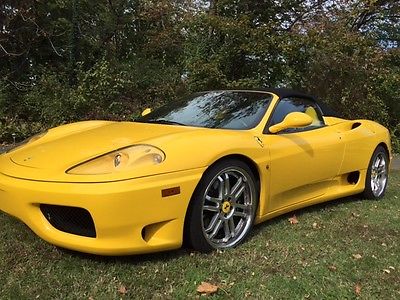 $64,999
Alexandria, Virginia
Ferrari 360 spider convertible 2003F1 transmission , up to date in service , clutch more than %50 CD, AUX, new speakers all around the careverything works greatruns and drive greatthis car needs nothing been own it since 2012 when it has 6k miles onlow miles the car has clean New Jersey, but has rebuilt title history due to theft recovery ..best deal ever for this model, year, and miles.series buyers only. I am selling it because I bought a new toy and I am not using it as often as I use too.
Trim Spider Convertible 2 Door
$40,000
Alexandria, Virginia
This Ferrari is in excellent mechanical condition. It had several owners before I purchased it in 2007. Since then I have been slowly bringing the car up to the condition it deserves to be in and am satisfied with it mechanics. Work remains on the body and interior to complete the process. The paint is relatively new (was painted right before I purchased the car in 2007) but it was not done to the standard that a car like this deserves. There are some runs in the finish and some spots where the paint thickness is not uniform. There are also several rock chips and one spot over the right front tire where paint has chipped off. There are no dents in the car. As stated in the description, an engine-out service was performed by Ferrari of Washington immediately after I purchased the car. Since then I have put about 2,000 miles on the car and it should be going back in for another engine-out. The clutch was replaced in 2010 at 40,783 miles. In 2011, all fluids were flushed and changed (gearbox, brakes, coolant). In 2013, the original exhaust was replace with a Nuvolari system. That same year the A/C system was completely rebuilt. Last year, the catalytic converters were replaced with Hyper-flo cats and the thermocouples were replaced at the same time. This car is located in Northern Virginia (Washington, DC area) and I will work with the buyer to coordinate delivery. If the buyer is within a day's drive, I am willing to deliver the car or the buyer can pick it up. If not, the buyer will be required to arrange for delivery. Payment will be in the form of an electronic deposit to my bank.
Trim Standard with carbon fiber trim