1994 Ford Aspire Cars for sale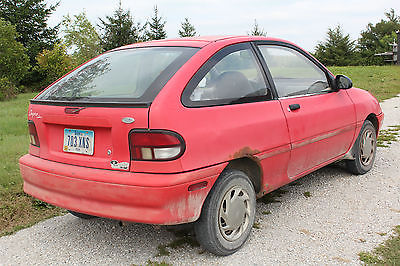 $1,500
Cambridge, Iowa
This little car is a great vehicle for getting around in town and commuting. It is very economical, getting about 40 mpg. It also steers in snow pretty well (we are from Iowa, so we know all about snow). The car is in okay condition. There is only minimal rust, manual locks and windows. It does not have power steering, or clock radio, or automatic windows, or air conditioning. Also, it needs new struts and possibly new tires. The windshield is whole, no scratches, no cracks. Has brand new seat covers are thrown in with the cost of the car. The backseat bench can be folded down, and the hatchback door still works just fine. It has a great engine too, and it is very fun to drive! If you have further questions, you can email me at ssnydernp11@gmail.com for mechanical details.
Trim Base Hatchback 3 Door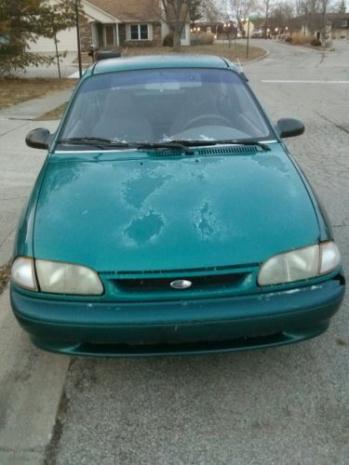 $1,000
Indianapolis, Indiana
Runs and drives. Rebuilt engine around 5k miles ago and transmission replaced around 20k miles ago. Runs and drives reliably. New tires as well! Could use alignment to protect tires. Body is not perfect, but it's also not rusty underneath. So it's good! Paint fade and a bit of cosmetic rust around weals. See pictures, I've added a picture of the very worst rust. Plastic trim needs to be glued back on. Reliable and great mpgs, what more could you ask for? Pick it up in Indianapolis, Indiana.
Trim Base Hatchback 3 Door
$3,650
West Valley City, Utah
Category -
Mileage -
Posted Over 1 Month
Exteriorcolor: GREEN car Type: 0 Trim: 5d Hatchback Options: Air Conditioning,Power Steering,AM/FM Stereo,FWD,4-Cyl 1.3 Liter,Manual 5-Spd,Wheels: Steel Condition: used For more ads provided by ( West Valley Auto Plaza ) please look by name using our search bar.