Cars for sale in Worthington, Pennsylvania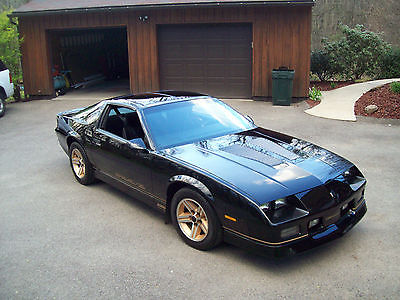 $15,700
Worthington, Pennsylvania
Car has 18,328 original miles on it and runs perfectly, original paint, original exhaust system, has optional TPI engine with HYPERTECH power chip (also have original chip), no fluid leaks, new brakes, tires are 90%, new tranny tail seal, added window tint, fog lamp trim rings have surface rust, paint has some spider cracks on rear hatch near spoiler and there are some minor stone chips, small ding in driver door and right fender, has almost all available options including 3.42 to 1 axle ratio (see pictures & documentation), interior is like new, garage kept. Feel free to contact me at 724-664-9374 with questions or for more pictures.
Trim 2 Door Z 28 Sport Coupe

$13,900
Worthington, Pennsylvania
Category -
Mileage -
Posted Over 1 Month
496 Big Block Chevy Dart Pro-1 aluminum heads, stud girdle, and port-matched intake manifold 1050 Dominator set up for the car by Patrick James / Pro Systems Carbs Billet custom-ground Comp Cam and full roller valvetrain Completely forged, internally balanced rotating assembly Meziere electric water pump, MSD pro billet distributor and ignition box with 2-step launch control (trans brake), etc. etc. Turbo 400 transmission All Hughe's internals including Red Alto frictions, Kolene steels, etc. Full manual, reverse pattern trans brake valve body Custom built torque converter by Steve Oldani / BTE Moser 9" complete bolt-in rear end Detroit locker Motive gears Held in with fully adjustable chromoly trailing arms The car has been to the track one time with this drivetrain for a couple light passes. It went 11.30 the second pass, leaving off the converter at about 3000 rpm and having made no adjustments since everything was initially assembled. The setup was built to leave off the trans brake at about 4500 rpms but I never took the car back to the track to try and hit the 10-sec goal. There's a dent in the roof and passenger fender after an unfortunate garage accident. The car will maintain temperature in traffic and runs on 93 pump gas. It currently has manual steering and brakes, which really clean up the engine compartment and aren't any problem operating. The car will be sold with the 10" wide rally wheels on the back with Mickey Thompson ET Street slicks, Autometer Ultra Lite gauges throughout, Jaz fuel cell, custom built 3.5" dual exhaust, Barry Grant electric fuel pump and Flex-a-Lite electric fans operated by a Painless Wiring switch panel. If you have any questions or want any other pictures, please do not hesitate to askThanks for looking!