Cars for sale in Newmanstown, Pennsylvania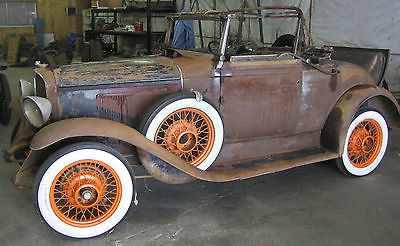 $7,400
Newmanstown, Pennsylvania
Category -
Mileage 999999
Posted Over 1 Month
1931 Pontiac Model 401 Convertible Sports Coupe, this car will be sold with a bill of sale only, NO TITLE. I had bought this car a couple months ago with the intentions of restoring it. I realized that I cannot give the car the restoration it deserves. There has been close to $10,000 spent on the car so far. The motor, transmission, generator, starter have all been rebuilt. The headlights have been fully plated. The car comes with all six wheels with new tubes and rubber on them. The car is complete in exception of the bumpers and hubcaps from what I have noticed. I would love to do this project but just not at this point of my life. I dont need to sell the car but would love to see someone get the car and give it the justice it's due. If you have any questions give me a shout 717-679-7571.
Trim Convertible
$31,999
Newmanstown, Pennsylvania
Category -
Mileage -
Posted Over 1 Month
The truck has some scratches and dents to the bumpers. There is one dent on the drivers side bed by the fuel door as seen in the pictures. Tire tread is low. The previous owner replaced the alternator with an aftermarket one so the battery light is always on. Charges just fine never had any issues. Passenger mirror does not fold or extend when you push the button. AC sometimes blows warm on drivers side (this is a Ford Factory Service Bulletin just never took it to the dealer to have them fix it since I don't use AC). Truck runs great and just had an oil change at 62k. Only selling because I have no purpose for it and all it does is sit. The truck has every single bell and whistle I mean this thing is incredible. DVD player and touch screen Navigation! I am the second owner and I purchased it from a dealer back in January. I have since sold my camper and changed jobs and had to buy a fuel efficient car to drive my 100 mile daily commute. The truck runs and drives great! I still have a loan but the bank has the E-Title so everything can be transferred in a day. If you have any questions feel free to call me 4847949058
$13,800
Newmanstown, Pennsylvania
Category -
Mileage -
Posted Over 1 Month
I bought this car from Insurance auction more than a year ago, with front exterior damage, for tuning to R-style. Car has no structural/frame damage and was built for myself. No pets. No smoking. I'm absolutely love this car (including high MPH diesel engine) and the only reason to sell it is a growing family. (My wife is expecting a fourth child) The car is in excellent condition - must see. Inspected June 2014 - regular serviced. Make an offer.