Am General Cars for sale in Newark, Delaware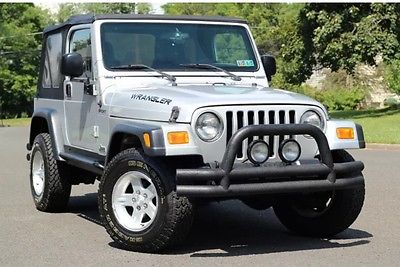 $12,500
Newark, Delaware
Up for sale is a 2004 JEEP WRANGLER TJ SPORT EDITION. ~ 4X4 ~ 5 SPEED MANUAL TRANSMISSION ~ Great 4.0L I6 Engine ~ 5 New Tires ~ New Starter ~ New Battery ~ New Brakes ~ New Heater Blower Resistor ~ New Oxygen Sensors - The engine sounds great, starts fast, and there are no leaks or noises whatsoever coming from this motor. - The transmission shifts like it should, and the clutch feels great and has plenty of movement. - The 4X4 works great. - The A/C blows cold and the Heater is hot. - This jeep has a premium factory CD/Radio with an upgraded subwoofer and sound bar. - The Bright Silver Metallic Exterior looks great and has no major dents, dings, or scratches. - The soft top is in good condition and has no rips or tears. - The frame and undercarriage look great for this vehicle. - The Dark Slate Gray Interior is very clean. - The dashboard, door panels, seats, and carpets are in great condition. Seats show only minimal wear for the age. - All interior features, door locks, radio, gauges, etc. work as new. - Premium 15 inch alloy wheels come with brand new General Grabber AT2 30X9.50R15LT Tires. - New same brand, full size spare tire located on the tailgate. Tools can be found behind the passenger seat. - Jeep comes with 2 KEYS and the Manual. ALL TRANSACTIONS WILL TAKE PLACE AT DELAWARE DEPARTMENT OF MOTOR VEHICLE. THE ADDRESS IS: 2101 MID COUNTY DRIVE THEIR HOURS: MON, TUE, THUR, FRI - 8 AM - 4:30 PM NEW CASTLE, DE 19720 WED - 12 NOON - 8 PM THE BUYER WILL BE RESPONSIBLE FOR THE $10.00 FEE TO OBTAIN A TEMPORARY TAG FROM DMV. ALSO, THE BUYER IS RESPONSIBLE FOR ANY FEES TO TRANSFER THE TITLE IN THEIR HOME STATE. PAYMENT FOR THE VEHICLE MUST BE IN THE FORM OF CASH OR CASHIER'S CHECK. IT SHALL BE THE FULL AMOUNT OF THE VEHICLE. AS STATED ABOVE, THE BUYER IS RESPONSIBLE FOR ANY OTHER FEES. BUYERS ARE MORE THAN WELCOME TO COME TAKE A LOOK AND TEST DRIVE THE VEHICLE BEFORE BIDDING.
Trim Sport Sport Utility 2 Door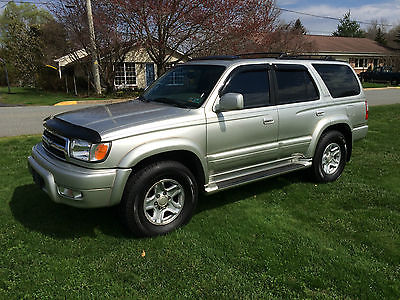 $4,950
Newark, Delaware
Hello. You are bidding on a 2000 Toyota 4Runner Limited. Please read the entire listing for important information about this truck. ***This Truck is not available to Maryland residents. I hold a Maryland's wholesale dealer's license, which does not allow me to sell to the general public in Maryland. If you intend to register the truck in Maryland, then do not bid.**** I will do my best to describe the truck accurately and honestly, but the truck is sold as-is. If you have specific questions about the truck please ask before you bid. This truck is fully loaded, with leather seats, cruise control, power sunroof, daytime running lights, automatic transmission, automatic climate control, CD player, power driver's seat, passenger's power seat, roof rack, running boards and much more. The truck starts immediately every time. The engine is smooth and strong. I've found no oil leaks and no evidence of excessive oil consumption. Rides very nicely. I have found no mechanical issues with the truck, except as noted below. I have found no rust anywhere on the truck. The body is in excellent shape with no major scratches or dents. Paint is shiny with no obvious fading. Tires are in great shape. Overall it appears that this was a very well maintained truck. The truck does have some flaws. As you can see from the pictures, there are two minor scuffs on the rear bumper. There is some light staining on the carpet as you can see in the pictures.The clock on the dashboard does not work. This is a common problem for these trucks. If you search the internet, you will find a relatively simple fix.The truck is displaying a P0770 code, which is a shift solenoid E malfunction indication. This is also not uncommon for these trucks. With some research you will find that in most cases this is not indicative of a major internal transmission problem. Many times the issue is resolved by a transmission service and replacement of the "E" shift solenoid. The transmission shifts smoothly and does shift into each gear as it should. There are no internal mechanical noises from the transmission and the fluid on the dipstick appears to be normal. When the transmission is fully warmed up, there is a slight intermittent shudder. The truck is fully driveable. The P0770 code will trigger the "check engine" light. No other codes are present.Overall this is a very nice truck that will give the new buyer many miles of enjoyment. Great opportunity to buy a loaded truck at a great price. I will not arrange for shipping, but I am happy to cooperate with your shipping company in any reasonable way I can. I've had good luck with First Class Auto Transport, 215-490-2994. They generally will ship anywhere within 600 miles of Philadelphia. I am not affiliated with them, and I do not have any liability for any issues you may have with them. If you have less than five E-Bay transactions, or have less than 95% positive feedback, then please check with me before bidding. This auction is closed to bidders outside the continental US. An immediate $500 deposit by PayPal is required. Full payment by cash or bank wire transfer within 3 days after the auction. Please ask any questions before you bid. Thanks and good luck.
Trim Limited Sport Utility 4 Door