2002 Mercedes Benz M Class Cars for sale in Chicago, Illinois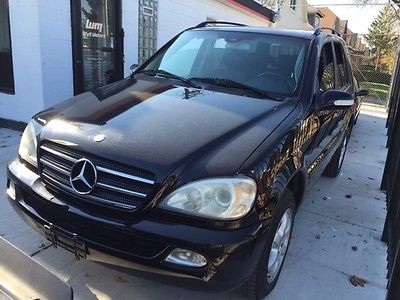 $5,500
Chicago, Illinois
Category Crossover
Mileage 109210
Posted Over 1 Month
Beautiful black on black Mercedes Benz ML-500 with only 109k miles! Well maintained and in absolute clean condition. Loaded with all wheel drive, navigation, sunroof, leather seats, heated seats, memory seats, power seats and much more.runs and drives great. EXTRA EXTRA CLEAN IN AND OUT -small crack on front and back bumper -small dent on passenger side quarter panel -normal rock chips for a 13 year old car autocheck shows the odometer/dash was broken and replaced back in 2007 but the milage is still consistant which means the miles was not modified just the dash had to be replaced. Carfax does not show anything. *$500 deposit is due immediately. Rest is due when picking up the car. Can ship the car under buyer expense. *Auction price does not include any applicable state taxes, plate and title fees Please message for financing options.
Trim Base Sport Utility 4 Door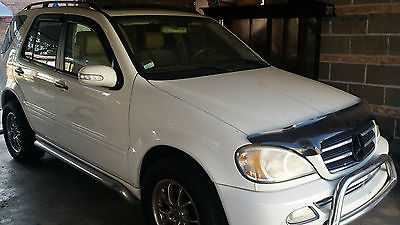 $1,000
Chicago, Illinois
Category Crossover
Mileage 160000
Posted Over 1 Month
This vehicle DOES NOT RUN!! The radio does not work!!It's being sold "as is". New tires purchased in 2014. The vehicle has been stored inside my garage. You must make arrangements to pickup the vehicle. No shipping!! I am located in Chicago, IL. I recommend you checkout the car before buying or bidding.Please contact me with any questions. This car is being sold "as is." There are no refunds.I am explaining the condition of the vehicle as best as I can. The seller is not responsible for the correctness of the description. It's the buyers responsibility to inspect the car and to bid/buy based upon that judgement. No warranty is expressed or implied.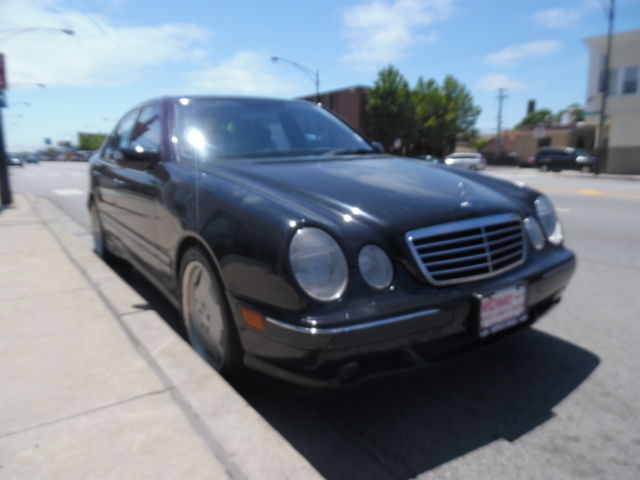 $11,900
Chicago, Illinois
Category Convertible
Mileage 73966
Posted Over 1 Month
Print this listing E55 AMG 5.4L Rare with all the options Black on Black ONLY 73966 milesMidway Dodge4747 South PulaskiChicago, IL 60632Call Us Today(630) 806-4933Ask Us A Question Vehicle DetailsYear: 2002Make: Mercedes-BenzModel: E-ClassVIN: WDBJF74J52B466690Stock Number: 15012AMileage: 73966Transmission: AutomaticEngine: 8 Cylinder, 5.4 LExterior Color: BlackInterior Color: OtherTitle: Clear Description 2002 Mercedes-Benz E-Class rare E55 AMG. This is the car you've been looking for!!!!! Incredible LUXURY and PERFORMANCE for a LOW price! You owe it to yourself to bid on the E55 AMG! Treat yourself this summer without breaking the your wallet. THIS IS ONE OWNER VEHICLE. NEW TIRES. NEW BRAKES. HAVE MERCEDES CLASS "A" INSPECTION AVAILABLE. Text or call Ryan @ 773.209.9145 with any questions. This is a great previously owned vehicle. The engine on this vehicle is running properly. Please serious bidders only. Features & Options AM/FM Stereo Auto-Dimming Rearview Mirror CD player Center Arm Rest Cruise control Front Bucket Seats Heated Seats Interval Wipers Keyless Entry Leather Steering Wheel Leather seats Memory Seat(s) Navigational System Passenger Climate Control Power Mirrors Power Steering Power locks Power seats Power windows Premium Sound System Rear Defroster Remote Trunk Lid Security System Steering Wheel Controls Sunroof Tachometer Telescoping Steering Trip Odometer Additional Photos Warranty InformationThis vehicle is being sold as is, where is with no warranty, expressed written or implied. The seller shall not be responsible for the correct description, authenticity, genuineness, or defects herein, and makes no warranty in connection therewith. No allowance or set aside will be made on account of any incorrectness, imperfection, defect or damage. Any descriptions or representations are for identification purposes only and are not to be construed as a warranty of any type. It is the responsibility of the buyer to have thoroughly inspected the vehicle, and to have satisfied himself or herself as to the condition and value and to bid based upon that judgement solely. The seller shall and will make every reasonable effort to disclose any known defects associated with this vehicle at the buyer's request prior to the close of sale. Seller assumes no responsibility for any repairs regardless of any oral statements about the vehicle. Terms & Conditions X See our other listingsDisclaimer: This auction is a legally binding contract to buy this vehicle. All vehicles are sold as-is unless otherwise specified. I have done my best to accurately describe this vehicle. It is up to the buyer to come see and further inspect the car before the end of the auction.-->http://i.ebayimg.com/00/s/MTIwMFgxNjAw/z/ajUAAOSw3xJVbfbe/$_5.JPGhttp://i.ebayimg.com/00/s/MTIwMFgxNjAw/z/ajUAAOSw3xJVbfbe/$_16.JPGhttp://i.ebayimg.com/00/s/MTIwMFgxNjAw/z/yHIAAOSwZd1Vbfbj/$_5.JPGhttp://i.ebayimg.com/00/s/MTIwMFgxNjAw/z/yHIAAOSwZd1Vbfbj/$_16.JPGhttp://i.ebayimg.com/00/s/MTIwMFgxNjAw/z/ND0AAOSwl8NVbfba/$_5.JPGhttp://i.ebayimg.com/00/s/MTIwMFgxNjAw/z/ND0AAOSwl8NVbfba/$_16.JPGhttp://i.ebayimg.com/00/s/MTIwMFgxNjAw/z/AhoAAOSwpDdVbfb~/$_5.JPGhttp://i.ebayimg.com/00/s/MTIwMFgxNjAw/z/AhoAAOSwpDdVbfb~/$_16.JPGhttp://i.ebayimg.com/00/s/MTIwMFgxNjAw/z/g~0AAOSwNSxVbfbq/$_5.JPGhttp://i.ebayimg.com/00/s/MTIwMFgxNjAw/z/g~0AAOSwNSxVbfbq/$_16.JPGhttp://i.ebayimg.com/00/s/MTIwMFgxNjAw/z/49kAAOSwstxVbfbx/$_5.JPGhttp://i.ebayimg.com/00/s/MTIwMFgxNjAw/z/49kAAOSwstxVbfbx/$_16.JPGhttp://i.ebayimg.com/00/s/MTIwMFgxNjAw/z/8qQAAOSweW5Vbfb1/$_5.JPGhttp://i.ebayimg.com/00/s/MTIwMFgxNjAw/z/8qQAAOSweW5Vbfb1/$_16.JPGhttp://i.ebayimg.com/00/s/MTIwMFgxNjAw/z/5QkAAOSwstxVbfb6/$_5.JPGhttp://i.ebayimg.com/00/s/MTIwMFgxNjAw/z/5QkAAOSwstxVbfb6/$_16.JPGhttp://i.ebayimg.com/00/s/MTIwMFgxNjAw/z/vd4AAOSwBLlVbfaN/$_5.JPGhttp://i.ebayimg.com/00/s/MTIwMFgxNjAw/z/vd4AAOSwBLlVbfaN/$_16.JPGhttp://i.ebayimg.com/00/s/MTIwMFgxNjAw/z/6B0AAOSwv0tVbfaU/$_5.JPGhttp://i.ebayimg.com/00/s/MTIwMFgxNjAw/z/6B0AAOSwv0tVbfaU/$_16.JPGhttp://i.ebayimg.com/00/s/MTIwMFgxNjAw/z/tkkAAOSwstxVbf0K/$_5.JPGhttp://i.ebayimg.com/00/s/MTIwMFgxNjAw/z/tkkAAOSwstxVbf0K/$_16.JPGhttp://i.ebayimg.com/00/s/MTIwMFgxNjAw/z/LPMAAOSwl8NVbfan/$_5.JPGhttp://i.ebayimg.com/00/s/MTIwMFgxNjAw/z/LPMAAOSwl8NVbfan/$_16.JPGhttp://i.ebayimg.com/00/s/MTIwMFgxNjAw/z/BzoAAOSwKrhVbfbM/$_5.JPGhttp://i.ebayimg.com/00/s/MTIwMFgxNjAw/z/BzoAAOSwKrhVbfbM/$_16.JPGhttp://i.ebayimg.com/00/s/MTIwMFgxNjAw/z/-rUAAOSwpDdVbfa2/$_5.JPGhttp://i.ebayimg.com/00/s/MTIwMFgxNjAw/z/-rUAAOSwpDdVbfa2/$_16.JPGhttp://i.ebayimg.com/00/s/MTIwMFgxNjAw/z/BNEAAOSwKrhVbfa9/$_5.JPGhttp://i.ebayimg.com/00/s/MTIwMFgxNjAw/z/BNEAAOSwKrhVbfa9/$_16.JPGhttp://i.ebayimg.com/00/s/MTIwMFgxNjAw/z/ZVUAAOSwBahVbf0T/$_5.JPGhttp://i.ebayimg.com/00/s/MTIwMFgxNjAw/z/ZVUAAOSwBahVbf0T/$_16.JPGhttp://i.ebayimg.com/00/s/MTIwMFgxNjAw/z/adMAAOSw~OdVbfbV/$_5.JPGhttp://i.ebayimg.com/00/s/MTIwMFgxNjAw/z/adMAAOSw~OdVbfbV/$_16.JPGhttp://i.ebayimg.com/00/s/MTIwMFgxNjAw/z/v5cAAOSwZd1Vbfas/$_5.JPGhttp://i.ebayimg.com/00/s/MTIwMFgxNjAw/z/v5cAAOSwZd1Vbfas/$_16.JPGhttp://i.ebayimg.com/00/s/MTIwMFgxNjAw/z/DGsAAOSwrklVbfax/$_5.JPGhttp://i.ebayimg.com/00/s/MTIwMFgxNjAw/z/DGsAAOSwrklVbfax/$_16.JPGhttp://i.ebayimg.com/00/s/MTIwMFgxNjAw/z/jskAAOSwBahVbfbC/$_5.JPGhttp://i.ebayimg.com/00/s/MTIwMFgxNjAw/z/jskAAOSwBahVbfbC/$_16.JPGhttp://i.ebayimg.com/00/s/MTIwMFgxNjAw/z/7egAAOSweW5VbfbH/$_5.JPGhttp://i.ebayimg.com/00/s/MTIwMFgxNjAw/z/7egAAOSweW5VbfbH/$_16.JPGhttp://i.ebayimg.com/00/s/MTIwMFgxNjAw/z/CAMAAOSwKrhVbfbQ/$_5.JPGhttp://i.ebayimg.com/00/s/MTIwMFgxNjAw/z/CAMAAOSwKrhVbfbQ/$_16.JPGhttp://i.ebayimg.com/00/s/MTIwMFgxNjAw/z/3I0AAOSwstxVbfai/$_5.JPGhttp://i.ebayimg.com/00/s/MTIwMFgxNjAw/z/3I0AAOSwstxVbfai/$_16.JPGhttp://i.ebayimg.com/00/s/MTIwMFgxNjAw/z/ixwAAOSwBahVbfab/$_5.JPGhttp://i.ebayimg.com/00/s/MTIwMFgxNjAw/z/ixwAAOSwBahVbfab/$_16.JPGhttp://i.ebayimg.com/00/s/MTIwMFgxNjAw/z/wHoAAOSwv0tVbf0E/$_5.JPGhttp://i.ebayimg.com/00/s/MTIwMFgxNjAw/z/wHoAAOSwv0tVbf0E/$_16.JPGE55 AMG 5.4L Rare with all the options Black on Black ONLY 73966 milesYear2002MakeMercedes-BenzModelE-ClassVINWDBJF74J52B466690Stock Number15012AMileage73966TransmissionAutomaticEngine8 Cylinder, 5.4 LExterior ColorBlackInterior ColorOtherTitleClearAM/FM StereoAuto-Dimming Rearview MirrorCD playerCenter Arm RestCruise controlFront Bucket SeatsHeated SeatsInterval WipersKeyless EntryLeather Steering WheelLeather seatsMemory Seat(s)Navigational SystemPassenger Climate ControlPower MirrorsPower SteeringPower locksPower seatsPower windowsPremium Sound SystemRear DefrosterRemote Trunk LidSecurity SystemSteering Wheel ControlsSunroofTachometerTelescoping SteeringTrip Odometer2002 Mercedes-Benz E-Class rare E55 AMG. This is the car you've been looking for!!!!! Incredible LUXURY and PERFORMANCE for a LOW price! You owe it to yourself to bid on the E55 AMG! Treat yourself this summer without breaking the your wallet. Text or call Ryan @ 773.209.9145 with any questions. This is a great previously owned vehicle. The engine on this vehicle is running properly. Please serious bidders only. This vehicle is being sold as is, where is with no warranty, expressed written or implied. The seller shall not be responsible for the correct description, authenticity, genuineness, or defects herein, and makes no warranty in connection therewith. No allowance or set aside will be made on account of any incorrectness, imperfection, defect or damage. Any descriptions or representations are for identification purposes only and are not to be construed as a warranty of any type. It is the responsibility of the buyer to have thoroughly inspected the vehicle, and to have satisfied himself or herself as to the condition and value and to bid based upon that judgement solely. The seller shall and will make every reasonable effort to disclose any known defects associated with this vehicle at the buyer's request prior to the close of sale. Seller assumes no responsibility for any repairs regardless of any oral statements about the vehicle. X This auction is a legally binding contract to buy this vehicle. All vehicles are sold as-is unless otherwise specified. I have done my best to accurately describe this vehicle. It is up to the buyer to come see and further inspect the car before the end of the auction.-->
Trim Base Sedan 4 Door